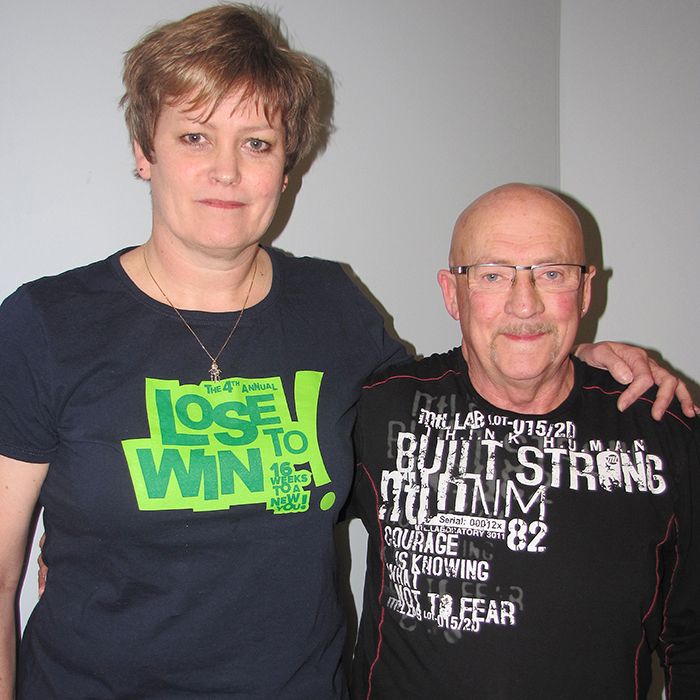 Linda Murray and Gus Morgan were the big winners of the Lose to Win Fitness Challenge. In addition to scoring points for weight loss, the participants were also awarded points for raising money for the CKHA Foundation over a16-week period. Murray was the overall winner while Morgan took first place in the Most Body Weight Loss category.
The fourth annual Lose to Win Fitness Challenge set records for pounds lost and funds raised for the Chatham-Kent Health Alliance Foundation.
The winners were announced Feb. 19 as participants and organizers gathered for the event's finale at the Frank & Mary Uniac Auditorium at the CKHA in Chatham.
Riverview Bingo Palace 02 from Chatham Voice on Vimeo.
Inspired by the Biggest Loser TV series, participants gained points for every workout completed at Performance Fitness & Training, body fat percentage loss, inches lost and body weight loss during a 16-week period that ended on Feb. 7.
Points were also awarded for pledges raised for the CKHA Foundation to help purchase the most urgent equipment needs.
While not all of the 117 people who signed up completed the program, the participants lost a record 432 pounds.
They also beat the record for pledges at close to $20,000.
After all the measurements were made and the points were tallied, Linda Murray of Blenheim was the overall winner.
"Up until 16 weeks ago, I had never set foot in a gym in my life," said Murray, 48.
"It was huge for me. I was terrified but the staff at Performance made me, the chubby couch potato, feel comfortable."
With more than $3,500 in pledges, the New Zealand native raised the most money while losing 35 pounds during the course of the competition.
She was motivated by her son who encouraged her to become more active.
"I had to change thinking that it was OK to sit on the couch every night and eat a whole bag of chips," she said. "I work in a pharmacy. I didn't want to be that person in 10 years from now that was relying on medication to help my joints, diabetes and all those things."
As the overall winner, she received a prize package that includes $1,000 and a one-year Performance Fitness & Training membership, as well as a one-year Chatham CrossFit membership.
Gus Morgan of Chatham won the Most Body Weight Loss category.
The 62-year old lost 37 pounds, more than 39 inches and 7.6% body fat.
Like Murray, Morgan had never been in a gym before.
His motivation was a trip to Europe with his granddaughter next month.
"It would be a lot of walking, so I had to get in shape," said Morgan, who weighed 230 pounds in September.
In addition to losing the weight, he is experiencing the benefits of a more active lifestyle.
"Eighteen years ago, I was in a very serious accident and I was going to lose a leg.  I wouldn't let the doctors take my leg off so I haven't been very active for 18 years," said Morgan. "Now that I've got back into being active, my joints and stuff are feeling better."
Michele Grzebien-Huckson, executive director of the CKHA Foundation, was thrilled with the results of the Lose to Win Challenge.
Noting that the benefits go beyond fundraising, she said the event has been good for the Foundation.
"Just the enthusiasm it generates is helping a lot of people get healthy and having so much fun," she said. "It's raising money for the hospital but it's also helping people get fit and make new friendships."
Matt Stirling, owner of Performance Fitness, said the event has been rewarding for the club. For many participants, it's the first step on their journey toward better health.
"The growth that we've watched in our club and what we've learned from this and the feedback we've been getting from people has been awesome for us," said Stirling.
Adina Rainbird, a personal fitness trainer who was taking part in her first Lose to Win Challenge, called it the best experience she's had as a fitness trainer.
"It was a competition but you were motivating other people and I just have to say that you made me a better trainer, a better motivator and a better coach," said Rainbird, applauding the participants' enthusiasm and camaraderie.
Comments
comments