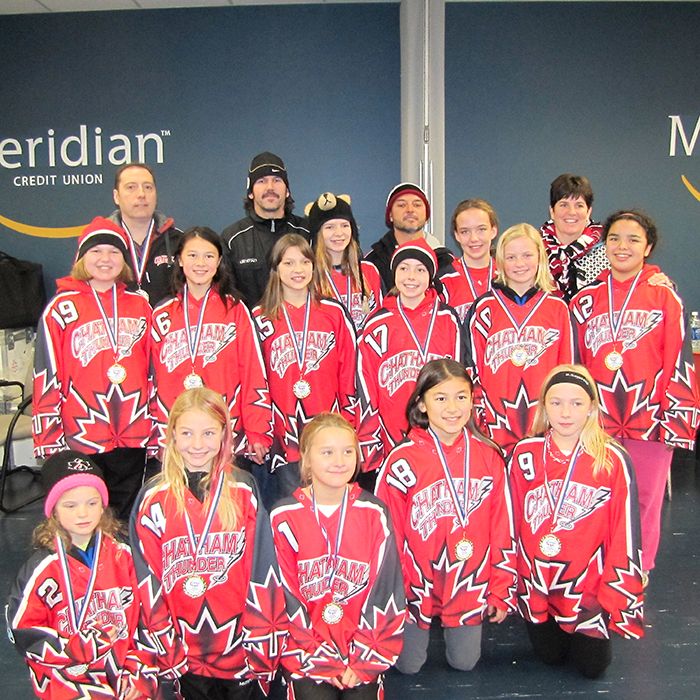 St. Catharines was kind to the Chatham Cement Man Petite A Thunder ringette team, as the girls took gold at a weekend tournament there.
In the final, Erica Anderson scored twice, while Natasha Anderson and Leah Thompson added one apiece as Chatham topped Elora Fergus 4-2.
The Thunder finished with a 5-0 record in the tournament, outscoring their opponents by a combined 32-9.  Audrey McKay-Barr was the winning goalie for each game.
They started with an 8-3 win over Tillsonburg. Courtney Legere had two goals and three assists. Lydia Harron and Natasha Anderson had two goals and an assist each, while Hanna McLeod and Leah Thompson chipped in with a goal and an assist.
Legere scored twice and assisted on one in a 7-2 win over Burlington. Delaney George, Erica Anderson, Harron, McLeod and Thompson had singles, with Newman picking up three assists.
Legere continued her scoring streak with a hat trick in Chatham's 5-1 win over Oshawa. Newman and Erica Anderson each had singles.
The final round-robin game saw Chatham defeat Elora Fergus 8-1. Legere, Harron and DaSilva scored two apiece with Newman and Erica Anderson chipping in one.
Comments
comments