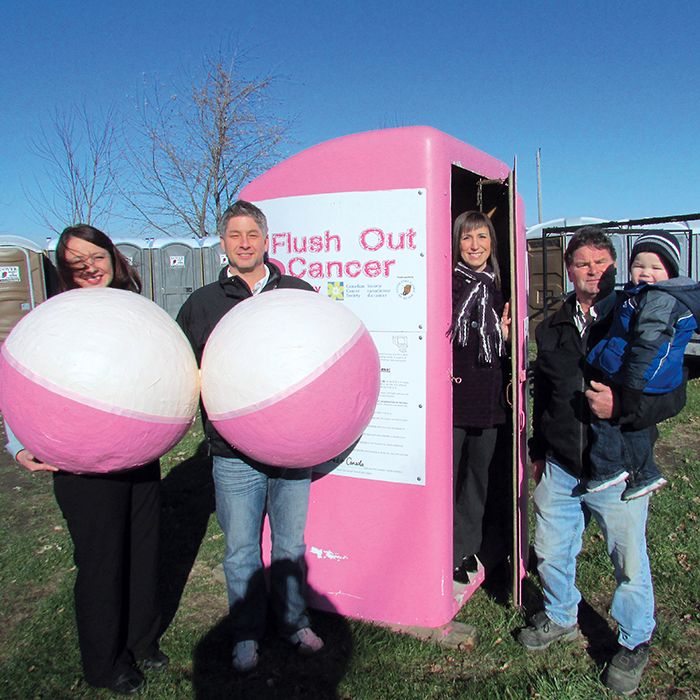 Fundraising for breast cancer research in Chatham-Kent hit the $32,000 mark in October, thanks in part the Two Boobs in a Bucket, and Flush Out Cancer initiatives. From left, Entegrus' Sarah Regnier, representing Entegrus CEO Jim Hogan, half of the Two Boobs; Blackburn Radio's Chris McLeod, the other Boob; the Cancer Society's Rachel MacLeod; Dover Port A John's Romain Caron and his future boss, Gavin Caron.
MacLeod, fundraising co-ordinator for the Chatham-Kent unit of the Canadian Cancer Society, said the Flush Out Cancer fundraiser involved the pink port-a-john landing in front of different area businesses each day in October.
She said it raised $11,900 for the month, with South West Ag leading the way, raising $4,600 the day it was plopped in front of that business.
As for the Two Boobs, Hogan and McLeod went up in an Entegrus bucket truck one morning and stayed there until they raised $5,600.
MacLeod said 16 area schools also got into the fundraising act last month, as well as one day-care centre and several businesses.