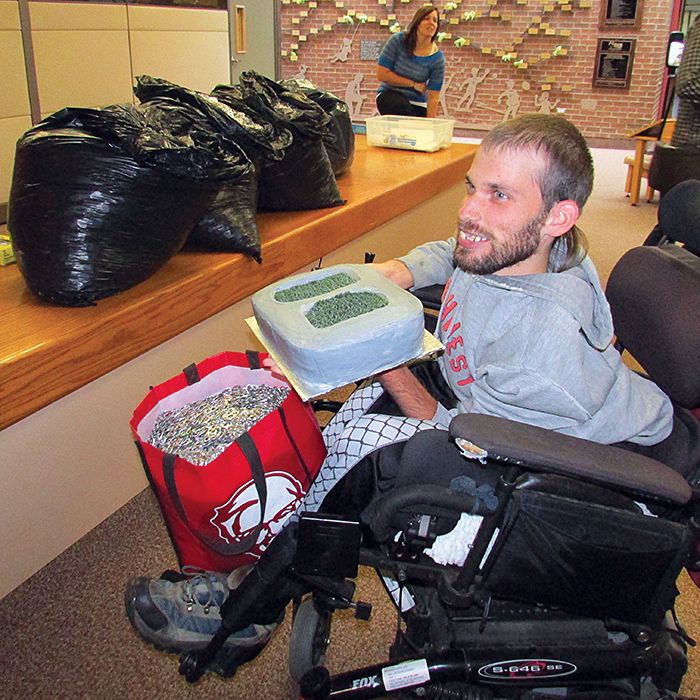 Every tab counts, and Tilbury's Aaron Jubenville counted each of the small shiny pop can tabs he picked up this year – all 429,511 of them.
Jubenville knows that each tab collected puts the Tabs 4 Kids campaign one step closer to purchasing a wheelchair for a physically challenged child in need.
He dropped his bags and bags of tabs to the Children's Treatment Centre Foundation of Chatham-Kent's Candice Jeffrey on Wednesday, who in turn handed them over to Tabs 4 Kids' Aurilla Ripley.
Jeffrey said local support for Tabs 4 Kids began with an idea for people to bring in their tabs to the treatment centre on Lark Street in Chatham. Soon supporters started dropping off coffee cans full of the tabs.
And then Jubenville, who relies on his powered wheelchair to get around, got involved.
"Aaron filled a (fabric) KFC bag with tabs and brought them to us," she said. "And then he thought he could do better. He set a goal of bringing in a half a million pop tabs."
Jubenville collected tabs all over Tilbury, including at the arena, where he is a familiar face, and in front of Foodland. Friends quickly became involved, and the word spread.
This summer alone, Jubenville hauled in nearly 230,000 tabs. His total of almost 430,000 left him short of his goal Wednesday – until Jeffrey handed over the contributions of other folks who'd heard Jubenville was on his quest. The effort added 74,462 to his tally, putting him over the half-a-million mark.
Ripley was amazed at Jubenville's effort.
"God bless you," she said to Jubenville. "This is really, really wonderful."
She said Tabs 4 Kids has been around since 1992 and has supplied wheelchairs to 36 peoples to date. The group sells the aluminum tabs to a recycling depot and uses the funds to purchase the chair.
Jeffrey said it takes an average of two truck beds full of tabs to pay for one wheelchair.
There are 1,141 tabs in a pound, Ripley said.
For Jubenville, his effort and decision to get involved seemed straightforward.
"I heard the treatment centre was helping out with this and I thought I'd help them out," he said. "I'm in a wheelchair. These aren't cheap."
Jubenville, with his perspective, knows how important it is for people to have increased independence, which the wheelchairs provide.
"Without my chair, I'd pretty much be nothing," he said.
Jubenville credited the Tilbury Kinsmen Club for helping out, and mentioned that a four-year-old boy from Iowa really surprised him by donated a bucket of more than 20,000 tabs.
Ripley said support for Tabs for Kids is growing, and Jubenville is helping, not just by snagging every tab he can, but also by raising awareness.
Service clubs, children's clubs and corporations are collecting for Tabs for Kids, she said, adding support comes from as far away as Western Canada, Arizona, and even Baffin Island.
"We have people on Baffin Island who fly the tabs to London for us," the Wallaceburg native and retired teacher said.