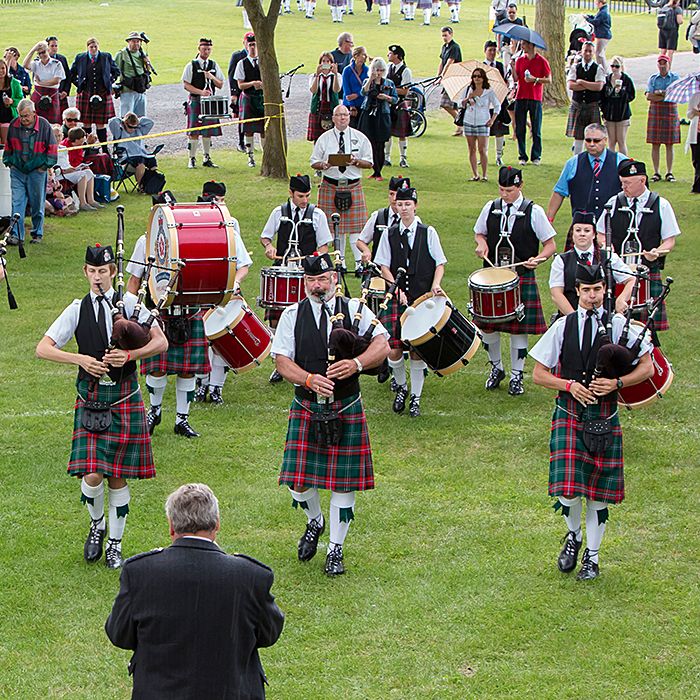 The Chatham-Kent Police Services Pipes and Drums band may be new to the scene, but it is already turning heads.
On Aug. 4, the Grade 5 band, in its second season, took home the North American championship at the Glengarry Highland Games.
Drum Sgt. Katie Burchiel said the band placed in the middle of the pack last year, but the members worked hard over the winter and brought home the top award this year.
"We started the season at the Toronto Indoor (Highland) Games and won. It kick started the season in the right direction. Then we went on to win at the Kiwanis Music Festival indoors," said Burchiel.
"Our first big games were in Alma, Mich., in May. We won the Highland Games the first day and the U.S. champs the second day. We got first from all four judges," she said.
The band then went on to take third place in Georgetown a few weeks later.
"We went back to practicing really hard, and in Cambridge, we took first again. It wasn't until the end of the day that we realized it was the Canadian title," Burchiel said.
From there, the band continued winning then took home the big prize this past weekend.
"As soon as they called us, we were all crying and screaming and climbing all over each other," she said. "It's a competition, but we're like a huge family. People from other bands were coming over and congratulating us."
Bands from across Canada and the U.S. come together in Maxville, Ont., every year for the Glengarry Highland Games.
During mass bands, approximately 1,400 bagpipers in 55 bands play together for more than 5,000 spectators.
"We've already caught the eye of people internationally; they want to see us succeed and are shocked at the level we're playing at already."
Burchiel is no stranger to competition drumming. She started playing snare drum when she was five, then joined the St. Andrew's Pipe Band at age 12 with her older brother Ryan, who plays bagpipes.
She competed at the World Championships in Scotland with the St. Thomas Police Pipe band in 1996.
She joined the Chatham-Kent band last year as drum sergeant.
Band manager Jim Niven said the Chatham-Kent Police Services Pipes and Drums band formed about four years ago as a ceremonial band, then began competing last year.
"We went far beyond anyone's expectations," he said about the current season. "We've already had several inquiries and we hope to expand and move up a grade next year."
The band will take a short break before it starts to prepare for the 2014 season.
"We'll take a few weeks off, then get started. We practice once a week all winter then twice a week as the season gets closer. Plus every band member practices at least an hour every night," Burchiel said.