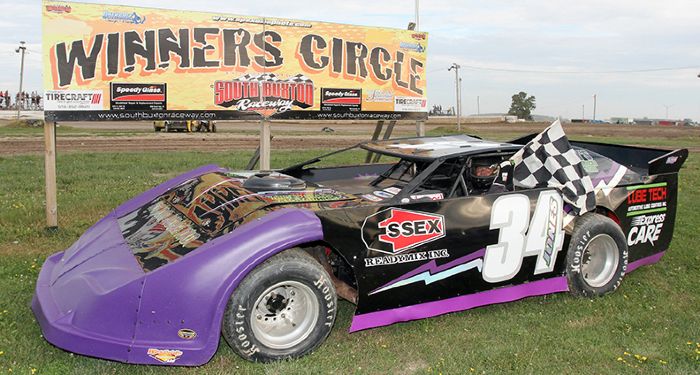 All it took was one Saturday night off to convince Jim Jones that retirement is still a few thousand laps in the distance.
The 52-year-old Chatham driver was forced to sit out the June 15 race night at South Buxton Raceway because parts for his back-up motor didn't arrive in time.
"It drove me berserk, sitting up there watching the other guys go around," Jones said, describing his first full night off from racing in 22 years.
He watched the action from the same turn-one bleacher in the grandstands where he used to watch racing as a young fan in the early 1970s.
"Of course, I'm saying, 'If I was out there, I'd have done this …,' " Jones said about his rare experience as a fan, watching his fellow Lube Tech/Great Canadian Oil Change UMP Late Model racers.
And that night told him he still belongs on the racetrack – not in the stands.
"What the heck else am I going to do on a Saturday night, except be out here watching these guys when I'm still able to race?" he asked.
"No, I'm not even thinking it (retiring)."
The last time Jones missed a night was a Saturday night in August of 1991, three days after suffering the worst wreck of his career in a Wednesday night Can-Am Late Model challenge race at South Buxton.
Visibility was poor because of dust when Jones and another driver collided on the front stretch. His car stopped at the entrance of turn one as traffic unknowingly sped towards him.
"I felt five hits, then there was a lull and I relaxed for a second, but there was another hit I wasn't expecting. I remember my legs hitting the steering wheel because I wasn't ready for it," Jones recalled.
"I didn't even know what direction I was facing. All I can remember was hearing the engines still revving and waiting for the next hit," said Jones, who walked away with only bruises on his legs.
His car was demolished, forcing him to sit out the Saturday night races – the first and only race night he missed until last month.
"I even raced the day my older sister (Barb Ramsden) got married," Jones said, smiling.
"It wasn't too popular with mom (Donna). I went to the wedding, then went out and raced and joined the festivities later at the reception."
Jones is in his 37th consecutive season of racing at South Buxton, the longest uninterrupted stretch in track history.
He first raced in 1976 at the age of 15 – five years after Raleigh Raceway opened.
"I grew up right down there on the 13th Concession," said Jones, pointing from his hauler to the road immediately south of the track.
"We could see the track under construction.
"My dad (Stan) was always into racing … just watching, he never got involved in driving.
"We were here the night the track opened, and we never missed a race night," Jones said.
As a 10 year old when the track opened on June 12, 1971, Jones' favourite drivers were Fred Chambers in the Coupe and Al McCully in the Late Models.
Five years later, he bought McCully's car from Ed McKinlay. It was a 1971 maroon-coloured Chevelle with the No. 34 on the door.
"Fred Chambers was my favourite driver, and he was number 33 … so I chose one number above his," Jones said.
He vividly recalls the nerves racing for the first time against all of the men he had watched from the grandstands.
"I remember sitting it that pit chute waiting to go out for the first race, and I could not stop my leg from bouncing on the clutch from nerves and butterflies," he said.
"And then when the green flag flew, I got on the gas and lifted when I thought it was time to lift, but when almost everyone in the field passes you before the corner, you soon found out that you have to go a little further before you lift," he said, laughing.
But it only took Jones three race nights to win his first heat race at South Buxton.
Over the years, Jones has been a steady competitor, winning his share of checkered flags and feature races and was always in contention for the points championship.
His breakthrough year came in 2004 when he won the Late Model points title and the season championship race as well as the Great Lakes Late Model series championship race.
"It was almost like I couldn't do nothing wrong that year," Jones said.
"It was fun to actually get some glory and finally get a championship after all those years."
However, in the never-ending evolution of racing, the track switched to the UMP Late Model rulebook the next season, allowing bigger and more expensive engines, upwards of $30,000.
"I had just caught up to having everything as equal as everyone else out there in the division," Jones said about his championship season.
"I work out of my wallet to build the cars, so any time there's rule changes, it takes me a while to get everything I need to be competitive again."
It took Jones a few years to get caught up again but he is once again a threat every race night – and a fan favourite whenever he's running up front.
After a third-place finish in the 2012 standings, Jones is currently fourth despite missing a night and enduring early season engine issues.
He picked up his first checkered flag in the June 29 heat race and has four top-five finishes in seven features, including a second-place finish on May 18 to Dale Glassford.
His last feature win came on June 19, 2010.
Jones' pleasant personality and class he exhibits on and off the track, has earned him nickname 'Gentleman Jim' from his fellow racers.
"Maybe if I was a little more aggressive and do some of things that have been done to me, I'd win more of these races instead of coming home second," he said, smiling again.
"But I can't make myself into something I'm not."
Jones said he has been upset many times over the years, but has never taken his anger beyond his hauler.
"I might grumble and gripe around the trailer when something irks me, but I think of the big picture before I go and do something stupid and get kicked out," he said.
"Thank God I haven't got my dad's temperament, God rest his soul," he said of his father Stan.
Just talking about his dad brings a little lump to Jones' throat.
"Dad was the number one fan of me and the car, he was always out there trying to get every little bit of sponsorship money that could be found," he said.
"When he passed away in 2006 just before the race season, that's what he was doing … hustling sponsorships."
Stan Jones was certainly proud of his son, highlighting his son's 2004 championship on the side of his pick-up truck.
Jim smiled at the mention of his father's pride.
"Anybody ever said the wrong thing about me, that wasn't a good idea to do, because unlike me … he had a temper," said Jim, with a little tear in his eye.
"I miss him a lot."
While Jones said retirement isn't in the near future, he said he'll know when it's time.
"When the fun goes away, or if I can't get in the race car anymore, that's the time I'll hang the helmet up," he said.
"You can't keep doing this for this many years if you weren't having fun, and I'm still having fun.
"And it was no fun watching from the stands," he said.
After this past Saturday's race night was halted by rain, Jones and the rest of the drivers at South Buxton look ahead to the Mid-Season championship night this Saturday, followed by memorial races honouring two of the legends Jones watched as a kid and raced against for many years – Don Hendricks on July 20 and Gord DeWael on July 27.
A win by Jones in any of these races would be the most popular victory of the season in the eyes of the faithful South Buxton fans – and fellow drivers.
Comments
comments