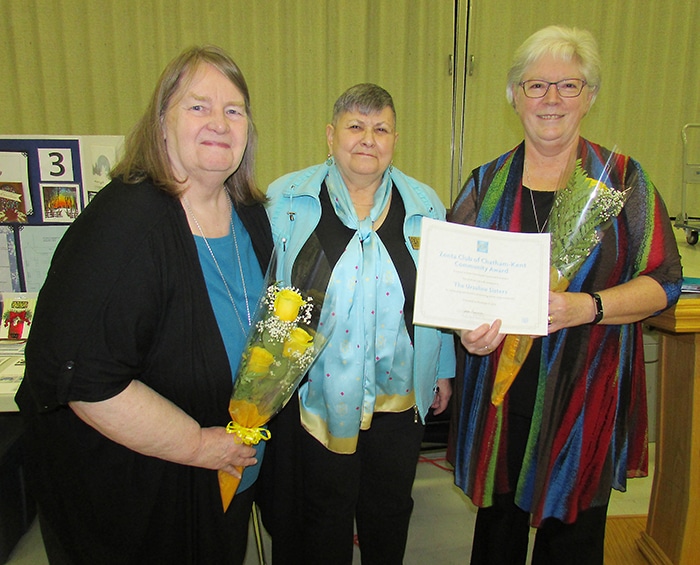 The Zonta Club of Chatham-Kent is celebrating its centennial year by presenting awards to a group and an individual to recognize their commitment to empowering women in our community.
The Ursuline Sisters of Chatham-Kent received the Zonta International Centennial Community Award at a special Zonta anniversary event Nov. 9 at St. Paul's Congregational Church. Zonta (Chatham-Kent) President Joyce Reissner and Zonta District 15 Governor Joy Smith from Michigan were on hand to present the award to Ursuline leaders Sr. Sheila McKinley and Sr. Theresa Campeau.
Reissner said the award is well-deserved for the Ursuline Sisters, who have a proven record of empowering women.
"We wish to honour Mother Xavier, posthumously, who started this order and their direction here in Chatham," Reissner said in her address. "When the Ursuline Sisters hear of a woman with a difficult situation either at home or at work, they will step in to help, often putting themselves in harm's way."
The Ursuline Convent was founded by Mother Xavier LeBihan of Le Faouet, France in 1860. The nuns established a boarding school and a day school called Ursuline College (The Pines), and in 1870, they moved to a building at 85 Grand Ave. W. in Chatham.
The president also explained that the land where the Chatham-Kent Women's Centre is built on Sandys Street near Grand Avenue was once owned by the Ursulines, who when they found out property was needed for a women's shelter, quietly donated it.
Both locally and in developing countries, the Ursulines have worked to help women in poverty and difficult situations get the help they need and improve their lives.
"Many of their works are done quietly and behind the scenes. That is one of the main reasons we feel it is necessary they be recognized for their many years of wonderful service to the community of Chatham-Kent," Reissner added.
Also receiving an award recently from the Zonta Club of Chatham-Kent was Michelle Schryer, executive director of the Chatham-Kent Sexual Assault Crisis Centre, for her outstanding commitment to empowering women. She received her reward Oct. 19 in Detroit at the Zonta District 15 fall conference.
Zonta International is a global organization of professionals empowering women worldwide through service and advocacy.