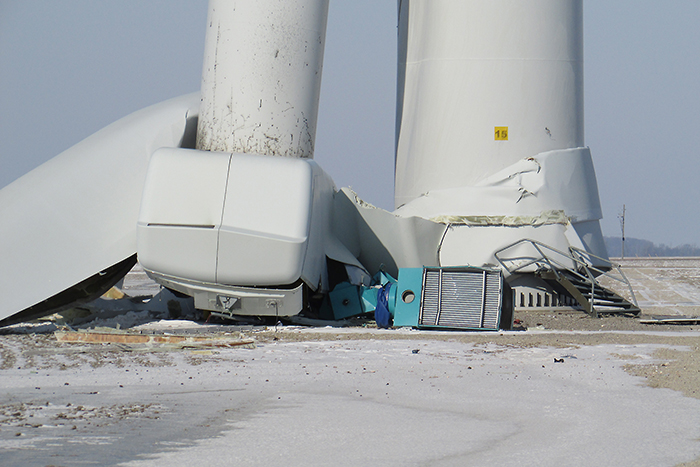 No injuries were reported after a wind turbine in South Kent collapsed early this morning, causing a huge outcry of concern from the public on social media.
The wind farm to which the turbine belongs started generating electricity back in 2011, and was built by Invenergy. The 78 MW project includes 52 GE-manufactured turbines on 9,300 acres of land and is reported to produce enough electricity to power up to 20,000 homes, according to previously published reports.
In late 2015, Invenergy sold the Raleigh turbine farm to Terraform Power Inc., as part of the sale of more than 800 MW of power plants.
One resident, who asked not to be identified said his neighbour reported hearing a couple of bangs sometime after midnight, while others said they didn't hear a thing.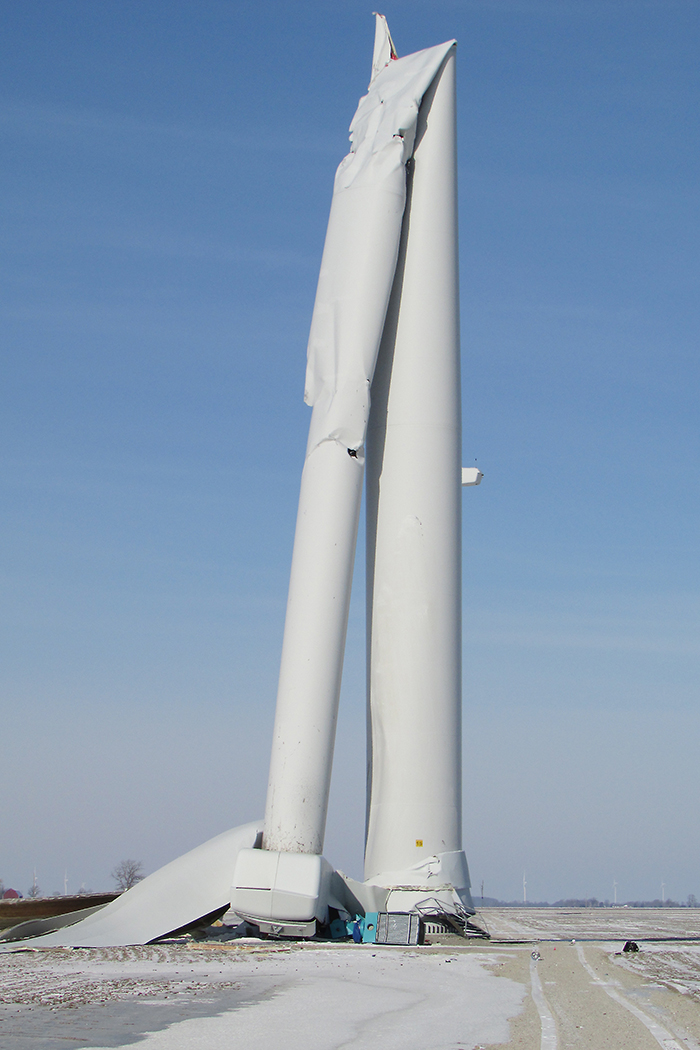 The turbine, located on 16th Line just east of Drake Road in South Kent, appears to have suffered a structural failure about midway up its body. The fibreglass blades lay twisted about the turbine's base.
A spokesperson for Terraform Power in Delaware, Maryland, Chad Reed, responded to a request for information.
"We can confirm that a single turbine collapsed at our Raleigh Wind Power facility in Raleigh, Ont. overnight. The issue did not cause any injuries or impact to the broader community," said Reed, the director of investor relations. "We are currently investigating the cause of the issue. In the meantime, we have secured the immediate area around the turbine and taken the full facility offline as a precaution as we conduct a site inspection."
Bob Crawford, fire chief for the municipality, said the turbine came down about 1 a.m. on Jan. 19.
"The main support shaft for the nacelle gave up about halfway up. It didn't sever, but stayed attached," he said.
Crawford, who has worked for the municipality since 2001, said he doesn't remember any similar problems with other turbines here.
"These types of things are exceedingly rare," he said.
Crawford added the municipality remains confident in the wind turbine companies in investigating what caused the turbine shaft to fail.
"It's in their best interests to determine exactly what happened here. Was it an anomaly or a design flaw," he said. "I have a lot of confidence in our partners. For all these energy companies we've talked to, safety is a priority."
The story of the collapse has generated a great deal of concern locally and further abroad on social media, with more than 132,000 views and nearly 2,800 shares of The Chatham Voice's Facebook post as of late Friday afternoon.
Water Wells First (WWF) spokesperson Kevin Jakubec said he and his group have said all along that the vibrations from the industrial machines were an environmental hazard. He cited an article, "Vibration-based wind tower foundation design," found at windsystemsmag.com that proves his point. Ironically, one of the cited sources for the article was from Golder and Associates, the consulting firm hired by North Kent Wind to prove turbine vibrations could not possibly be the cause of turbidity contamination in private wells adjacent to turbines under construction.
"Wind towers have to sustain continuous vibration-induced forces throughout their operational life. The operating frequency of the three-blade turbine could potentially cause dynamic amplification of these forces, significantly posing a threat to the overall structural integrity," the article states.
Jakubec said the company should be investigating the rest of the towers for vibration-induced stress.
"Water Wells First has always maintained the vibrations generated from these large industrial machines pose a risk to our aquifer's integrity," he said. "Vibration is a known contaminant officially listed on Section 1 of the Ontario Environmental Protection Act. The MOECC should immediately investigate this wind farm with the collapsed tower. No one would be surprised to find families forced off their wells there as well."
Area MPP Rick Nicholls said the good news is that no one was hurt in the area of the collapsed turbine, but he has serious concerns about other turbines, particularly ones adjacent to Highway 401 that have the potential to fall across lanes of traffic.
"This poses the question of how many more are close to collapse? We don't know that," Nicholls said in phone interview. "This is very serious and may be a sign of times to come. Chatham-Kent seems to have become the industrial turbine capital of Canada. If the several that are close to the 401 were to collapse, that would be catastrophic."
Nicholls pointed out that the turbines on the Terraform project in South Kent are only seven years old and he has concerns for what other issues they may be causing, such as the complaints of well contamination from people living in the former Dover and Chatham townships.
"Those vibrations are going into the ground. What other damage is being done that we can't see," he asked. "We have some serious issues here and no one seems to be listening, particularly the Ministry of the Environment and Climate Change."