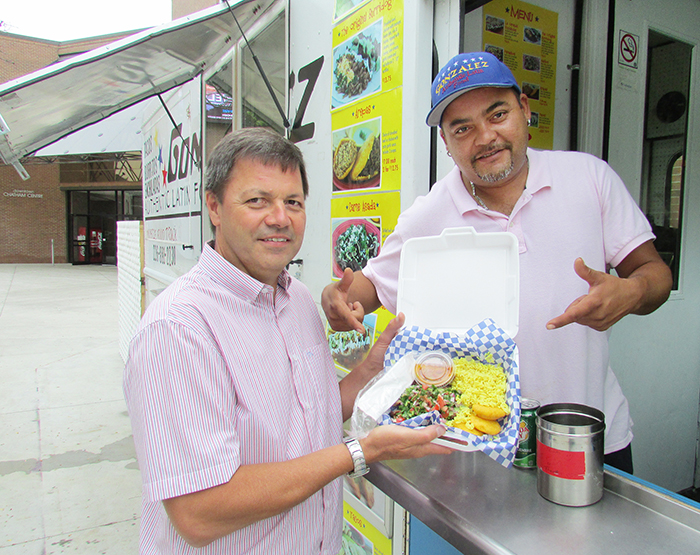 How does a native Venezuelan wind up in Chatham selling Mexican food?
For Jorge Gonzalez, it's not that difficult.
Gonzalez came to Canada more than 20 years ago, eventually settling in Chatham. He came here from British Columbia about four years ago with his family. He purchased a mobile home, but sold it to invest in a food truck. Fixing up the vehicle that is now Gonzalez Authentic Latin Food was a lot of hard work, down to "every single screw," and it was a gamble.
"I started in business with one bag of tortillas," he said. "I started with maybe $50."
He opened for business on Dec. 16, 2013, outside Chatham Plumbing. And then the harsh winter arrived, which at one point caused everything on his truck to freeze up.
Since then, thieves have broken into his truck and robbed him. But still he's persevered.
"When you have a hard time in life, you make sure to get up again and don't fall," he said.
Such an attitude has paid off for Gonzalez, because "people started showing up." And then his food spoke on his behalf.
The special of the day when The Chatham Voice caught up to Gonzalez was carne asada, and the steak was delicious.
He uses the Mexican nomenclature for his dishes, as the names are more familiar to most people, but adds his own twist.
""I just took some of the heat out of the Mexican food and added more Latin American flavour," he said.
He won an award at the London International Food Festival earlier this year for Great Food Worth Driving For. His la grande enchilada was a hit there.
When Gonzalez got to the festival, he didn't know what to expect.
"I saw all those beautiful food trucks as I drove up with my little truck," he said.
Gonzalez is so appreciative of the support he receives. He credits the municipality's economic development department's small business centre for offering great advice and assistance, as well as the people of Chatham Plumbing for giving him a place to get started – "they believed in me and gave me a place to park my truck."
And then there are the customers that track him down regardless of his location.
"Without them, I am nowhere. They are faithful, nice and supportive," he said.
It's early on in his relocation, but so far, he loves being in the downtown core.
Gonzalez doesn't see his truck as a threat to any downtown restaurants.
"I don't feel like I'm in competition with anybody. Chatham has 40,000 people. Everybody has to eat," he said. "I believe in my product. I use 100% fresh ingredients."
In fact, Gonzalez thinks he'll draw different people into Chatham's core.
"My truck is a little hangout for the Mexican people working around here. I think it will bring the Mexican and Mennonite communities downtown," he said.