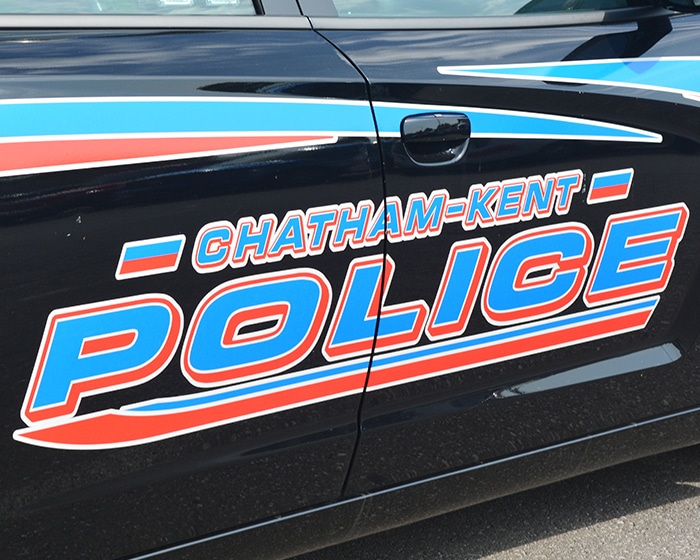 Man throws door at women
On Monday morning, shortly after 8 a.m., Chatham-Kent police responded to a disturbance on Flemingo Street in Blenheim.
A man engaged in a verbal argument with two women. The argument escalated when he assaulted both women by pushing one down some stairs and the other against a wall, police say.
The altercation moved to a bedroom, where the man threw an unhinged door at both women, police say. No one sustained any serious injuries as a result of the incident.
A 37-year-old Blenheim man was located a short distance away, arrested and was charged with two counts of assault and two counts of assault with a weapon.
Theft charges
Light fingers led to charges Monday morning for a Walpole Island man.
Police got the call shortly after 9 a.m. from staff at Wal-Mart in Chatham, after security personnel observed a man concealing items on his person and consuming unpurchased products, police say.
As police arrived, the man was found leaving the store without paying for the items, police say, and was arrested.
A 33-year-old Walpole Island man was transported to police headquarters and charged with theft and possession.
Man charged for punching a vehicle
Police got the call shortly after 5:30 p.m. of a report someone tried to punch out a car in Chatham.
Through investigation, police learned a man attended a family member's home on Prince Street and engaged in a verbal argument.
The man punched a vehicle owned by the family member, police say, causing damage. The man left the area as police were called.
Police arrived and located the man a short distance away.
A 26-year-old Chatham man was arrested and transported to police headquarters. He was charged with mischief.