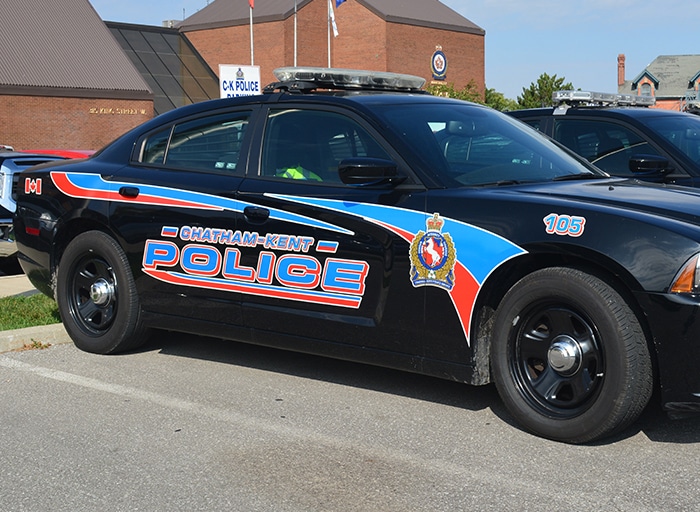 Spit and punch effort leads to assault charges
A mid-afternoon throw-down in a Chatham parking lot has led to assault charges against two local men.
Chatham-Kent police say the scrap took place in a parking lot on McNaughton Avenue West in Chatham about 4:20 on Wednesday.
Officers got the call of a disturbance, arrived, and tried to sort out what had taken place.
Through investigation it was determined that the men had a confrontation which resulted in one of the men being spat on and the other one having a tooth knocked out.
A 43-year-old man of McNaughton Avenue West in Chatham is charged with assault causing bodily harm.
A 47-year-old man of Copperfield Crescent in Chatham is charged with assault.
Warrant arrest, print edition
Chatham-Kent police have arrested a man wanted on an outstanding warrant for failing to attend for fingerprints.
On April 14 at approximately 4 p.m., police attended a residence on Grand Avenue West in Chatham.
A 39-year-old man of Chatham was arrested and released with conditions.
Home reno scam
Several incidents have been reported across the Municipality of Chatham-Kent in relation to home renovation or improvement scams.
If you have someone that comes knocking on your door advising that you need a new roof, driveway or some other type of home renovation, police advise you to use caution.
The scammer may ask you to provide them with cash upfront in order for them to purchase supplies. At that point, they leave and never come back.
Or, once the work is started, the suspect(s) may try to convince you that more work had to be done, thus increasing the overall price.
If you determine that renovations/improvements need to be done to your property, always get two to three estimates. Check with your family and friends to see if they can recommend a qualified contractor.
Comments
comments