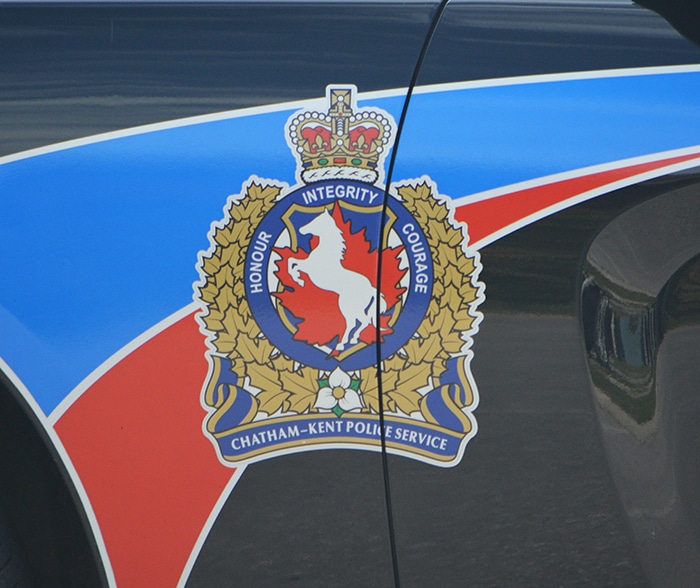 Resisting arrest, impaired charges
Last night, Chatham-Kent police responded to a domestic disturbance at a residence in Chatham.
The man backed out of the driveway erratically, right into a snow bank, police say. As the man started to drive away, officers initiated a traffic stop. The man immediately exited his vehicle and was argumentative with police.
Through investigation, police believed the man was driving while under the influence of alcohol and he was placed under arrest.
The man pulled away from the officer in an attempt to resist arrest and return to the residence, police say. Following a short struggle, the man was taken into custody and transported to police headquarters for breath tests.
A 25-year-old Chatham man was charged with having a blood-alcohol concentration exceeding the legal limit, escape lawful custody and resist arrest.  
We've got a runner!
Yesterday morning, an officer on general patrol in Wallaceburg observed a vehicle on Dufferin Avenue with a stolen license plate attached to it.
The officer initiated a traffic stop and the driver fled on foot. Following a short foot chase, the man was taken into custody.
A 35-year-old Wallaceburg man is charged with being in possession of property obtained by a crime under $5000.
A police cruiser is not a spittoon
Around 5:30 p.m. yesterday, police initiated a traffic stop on Park Street in Chatham, but things got wet once a man got placed into the back of the police car.
Through investigation, police learned that the man was currently serving a three-month driver's license suspension for driving while impaired by a drug.
The man was arrested and charged.
While in custody in the rear of the cruiser, the man spit several times on the partition in the direction of an officer, police say. Due to the COVID-19 pandemic, the vehicle was taken out of service and professionally cleaned for everyone's safety.
A 29-year-old Chatham man was additionally charged with mischief.
Fender benders
Yesterday afternoon, police responded to a two-vehicle collision on St. Clair Street near Maple Street in Chatham.
Both drivers were transported to hospital for medical attention.
Total damage was estimated at $20,000. The collision remains under investigation.
—
Yesterday afternoon, police responded to a two-vehicle collision on James Street between Duncan Street and Creek Street in Wallaceburg.
No one was injured.
A 58-year-old Port Lambton was charged with making a turn not in safety.
Wire stolen
Sometime between Tuesday at 5:30 p.m. and Wednesday at 8 a.m., someone forced their way into a building under renovation on Sixth Street. Once inside, the suspect(s) stole scrap wire and various hand tools. Total value of the theft has been estimated at $1,000.
Anyone with information is asked to contact Const. Jayme O'Reilly at jaymeo@chatham-kent.ca or 519-436-6600 ext. 87006. Anonymous callers may call Crime Stoppers at 1-800-222-TIPS (8477) and may be eligible for a cash reward.
Comments
comments