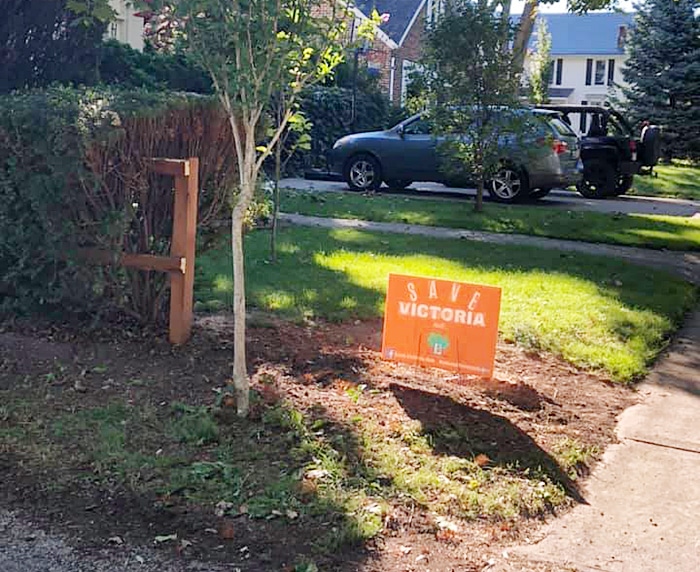 By Jenna Cocullo, Local Journalism Initiative
A Chatham councillor tried hard to save the trees on Victoria Avenue earlier this year, and had his shrubs suddenly cut down by the city on Friday morning.
When Coun. Michael Bondy's wife posted a video of the shrubs being unexpectedly cut on her social media, Victoria Avenue residents and the public in general were concerned that it was a vindictive move. 
A section of the fence was also removed. Bondy said he asked for them to remove it, as it "looked awful."
Last month the municipality's integrity commissioner ordered Bondy to apologize to council after displaying rude behaviour in public and toward council at the May meeting where proposed Victoria Avenue changes were being debated. He was also under fire for making a since-deleted post on social media stating the "corruption and collusion is so clear," referring to the municipality.
But Bondy said it's all good and the city was in the right to undertake the emergency cut.
READ MORE: Coun. Bondy under fire from Integrity Commissioner
The issue was that the shrubs separate Bondy's house from an adjacent alley. When they grow too high, drivers can't see south on Victoria Avenue when they come out of the alley.
Bondy said on Thursday night an elderly man was driving down the alley and as he was trying to turn left, he almost hit a kid walking down the street. The gentleman called the city asking that the shrubs be taken down. 
"They were right, the shrubs were definitely too high. I've been through this before. We tried to cut them down, you know so that people can see over their shoulders," he said. "Frankly, you know, it was a safety issue and I'd recognize that. I've got five kids, I get it."
Bondy said this time he didn't get a notice and city workers came at 7:45 a.m. to take them out.
Bondy, who is treated like a regular citizen in this case and not a councillor, would have preferred to receive a notice in the mail so he or an arborist could have cut the shrubs to ensure they would grow back. 
But he said at the end of the day, it is municipal property so technically C-K staff did nothing wrong. 
The Chatham councillor said he is not surprised residents had a suspicious reaction to the events. He also live on Victoria Avenue, one of the reasons he was very passionate about saving the trees.
"Those guys aren't that type of bad guys that would just come cut my shrubs down," he said. "I'm sure people will think that of course because I was trying to protect trees on Victoria and then the city comes along to cut down my shrubs."
The Chatham Voice has reached out to municipal officials for comment.
READ MORE: Victoria Ave. fight not over