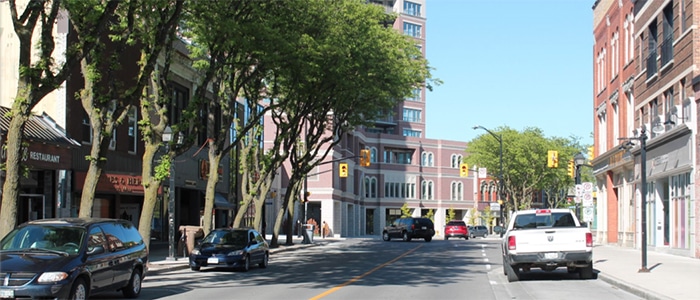 Proposal would convert section into outdoor pedestrian mall
By Bruce Corcoran
The manager of the Downtown Chatham Centre (DCC) is thinking outside of the box when it comes to Chatham's core, and she hopes others walk up to the idea.
Regina Stockus would like to see the section of King Street that runs between Fifth and William Streets be converted into a pedestrian mall. 
She knows blocking automotive traffic from the mall to the Chilled Cork would be a huge change.
"I figured we have to be bold. Never mind dancing around the pool. We have to jump in," Stockus said. "My job is to get people into the mall. Tenants want (foot) traffic. The more traffic, the more tenants. It is a chicken and egg thing."
To that effect, Stockus said the need is to attract the foot traffic. In her mind, what worked 40 years ago is no longer effective today.
"The old formula is no longer working. Malls have to change the concept," she said. "When the concept started years ago, it was more about dealing with Canadian winters. But the box stores have opened up and sucked business out of the downtowns. As mall managers, we have the stores, have the parking, have heated conditions, but that's no longer enough."
Stockus said in her travels through Europe, she saw the appeal of large outdoor pedestrian-only areas.
"Last May, when I was in Europe, I was sitting at the piazza in Rome drinking wine and people were walking around enjoying the outdoors. It was the same in Munich," she said.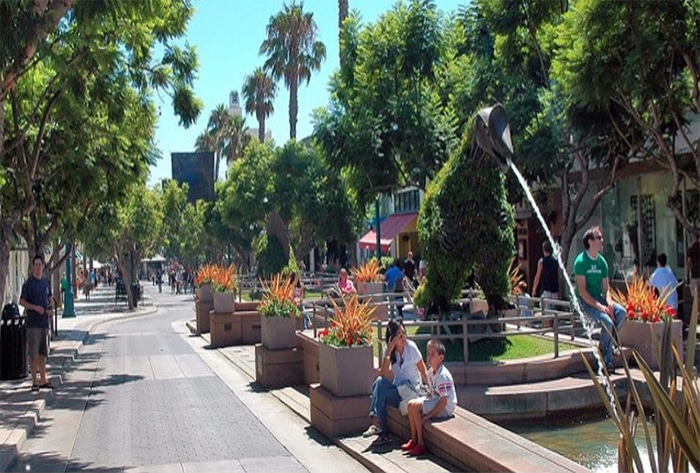 Stockus thought, why not Chatham?
Mayor Darrin Canniff has seen the idea. He's not yet sold on it, however.
"It's one of many ideas for the downtown. It's another idea to consider and it would be a very expensive thing to consider too. Certainly , as we move forward, there will be a lot of things going on," he said. "And there has to be something happen at the mall. It's pretty much empty and we have to find some way to fill it."
Stockus said she's worked on increasing traffic inside the mall, with line dancing, mall walking, a reading room, etc., and numbers were improving.
Then COVID-19 hit the globe. 
"Restaurants can open outside only. This concept would be a walking street with lots of flowers everywhere, and restaurants with patios, buskers performing and more," she said.
She envisions the area being filled with boutique-style shops, with some offering pastries, unique breads, cheese, and more.
She encourages the municipality to embrace the concept and seek to tap into stimulus funding from senior levels of government.
Canniff said Chatham's downtown needs more people working, and living, there.
"The key to a revitalized downtown is to have people living down there and working down there. Once you have those two, it will start attracting other businesses," he said.
Enter Boardwalk on the Thames, the apartment project that began in 2010 with Everlast Group.
"The condo, when it comes online later this year, that will be the next point of revitalization of the downtown," Canniff said. "There are 88 units. When they fill up, there will be 150 to 200 people living downtown. That will start driving the economics down there."
Canniff also pointed to Everlast's plans for the former YMCA at the other end of King Street in the downtown. When completed, that could house as many as 150 foreign students.
"You start putting people down there and it starts creating more traffic, and so on," he said.
The mall manager said she's sent her information and ideas to every member of municipal council, as well as local MPP Rick Nicholls, MP David Epp, and so far she has not heard anything in response.
"I know they are busy with other issues, but the community is suffering. The downtown is suffering. Stores are closing. Is it the coronavirus or is it not thinking outside the box?" Stockus asked.
She knows there are opponents to her concept.
"I expect to have some negative comments, but everyone I talked to agreed something has to be done. We have to be proactive," she said.
Parking is one area that should not be an issue, as there is limited parking along that section of King Street, Stockus said, and the DCC has more than 1,000 parking spots on its footprint. Furthermore, the lot on Fourth Street at the intersection of Wellington Street is often underutilized, she said.
She hopes to speak with an engineering group in the near future to develop a formal proposal to take before elected officials.
"We want to revitalize the downtown and make it dynamic; make it a community place for people to gather and to have fun. Chatham is such a beautiful place with so many historic buildings. It just needs some rejuvenation," Stockus said.
Comments
comments