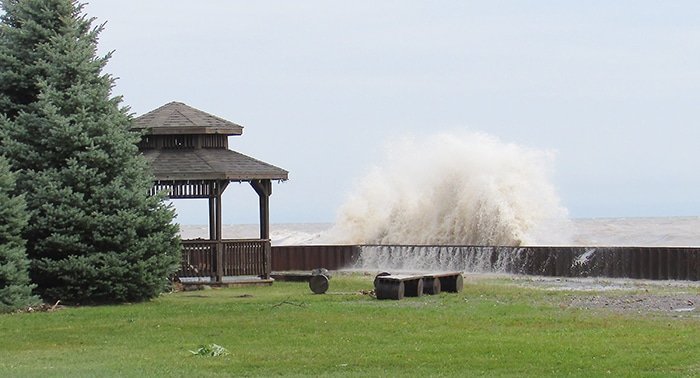 A flood warning is still in effect for Lake Erie as waves of at least 1.5 metres are expected during times of peak winds over the weekend.
The warning is in effect until April 20 and was issued by the Lower Thames Valley Conservation Authority, which released a statement Friday afternoon.
High lake levels could potentially cause damaging wave action to shoreline protection works and cause erosion all along the Lake Erie shoreline in Chatham-Kent and Elgin County, including along the high bluff areas.
Flooding is expected along Erie Shore Drive in Chatham-Kent Saturday afternoon and throughout the day Sunday, given the predicted southwest wind direction and speeds well above the 25 km/h threshold.
"The extended period of time that winds are southwest above the threshold speed is likely to aggravate flooding beyond what is typically expected for these wind speeds. Residents and workers in the area should pay attention to local conditions and be prepared," stated the release.
Over the next 24 hours, the wind direction is predicted to change counter-clockwise ending up southwest by Saturday afternoon and predicted to rise to around 30 km/h.
From Saturday afternoon through to Sunday evening, winds are predicted to remain southwest above 25 km/h and peak sometime overnight Saturday into Sunday between 35 and 40 km/h from the southwest, with gusts above 50 km/h.
After a brief calming on Monday, long-range forecasts suggest another period of strong winds late Monday into Tuesday from the southwest to northwest.
Comments
comments