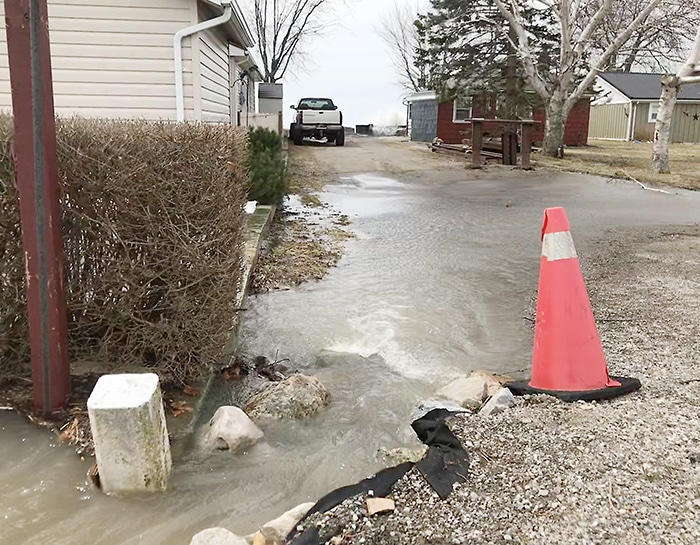 As Chatham-Kent councillors prepare to meet this evening to discuss dike concerns along Erie Shore Road, the mayor has declared a state of emergency in the area.
Darrin Canniff issued the emergency warning due to a "substantial risk of conditions developing that would render the Erie Shore Road dike unstable, with progressive failures potentially leading to a significant breach," he said.
His declaration added the probability of such a breach is less than 50 per cent, but if it happens, it could be severe and result in "significant harm to property and persons.
The breach, the declaration said, could result in parts of Erieau Road flooding, preventing access to Erieau, also inhibiting emergency vehicles to access Erie Shore Drive and nearby areas.
As a result, the state of emergency is in place for the low-laying areas behind the dike, basically from near Bisnett Line to the northwest to near Fargo Road to the northeast, and down to just outside Erieau to the southeast.
Canniff advises residents on Erie Shore Drive between addresses 18416 and 17982 to evacuate. Anyone along this section of roadway who needs emergency accommodation or additional support can call the Chatham-Kent Homeless Response Line at 519-354-6628. They should advise that they currently live on Erie Shore Drive.
Erie Shore Drive is currently closed except for local traffic, and Canniff said administration might need to close it entirely if weather and other conditions warrant such a move.
Administration will also plan to ask council to indefinitely close Erie Shore Drive, effective March 9, from the address of 18416 Erie Shore Dr. to Erieau Road.
Council will vote on the matter at its Monday meeting.