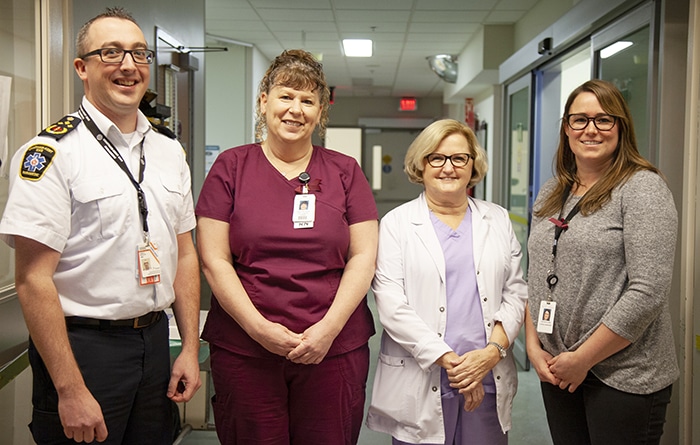 Local health and EMS officials say they've made a great deal of progress in offload times for ambulances at local emergency departments.
Since March, the Chatham-Kent Health Alliance (CKHA) reports such times dropped by 45 per cent, from an average time of 42 minutes to 23 minutes.
Don MacLellan, general manager of Chatham-Kent EMS, said the large improvement is due to a combination of factors and efforts from EMS and the CKHA.
"It's because of great work we've established here with emergency department leadership. Paramedics are able to be turned around fairly quickly to be put back out into the community and to be available to serve the public," he said. "We're very impressed with the collaboration we have established with the CKHA. It's a testament to the results we are seeing."
MacLellan said mapping of patient flow through the emergency departments took place, and as a result, patients are being triaged much more quickly.
Lori Marshall, president and CEO of the CKHA, said a nurse has been dedicated to handle the offloading of patients from ambulances at the Chatham campus of CKHA.
"Rather than relying on nurses who may be caring for other patients when the ambulance arrives, we have implemented an offload nurse," she said.
MacLellan said the Chatham campus sees an average of about 25 ambulance visits a day. Factoring in 19 minutes less time on average per visit, that puts the ambulances back in service for nearly eight additional hours a day rather than being tied up at the hospital.
MacLellan said offloading wait times were not an issue at the Wallaceburg campus, as the emergency department there averages about five ambulances a day.
"All the work that has been done is reflective of the Chatham site. We have a well-oiled machine at the Wallaceburg site. The volumes are not the same," he said.
In Chatham, the 25 ambulance visits are part of an average of 105 ER visits a day by the public, Marshall said. During the flu surge season, that number climbs to about 140.