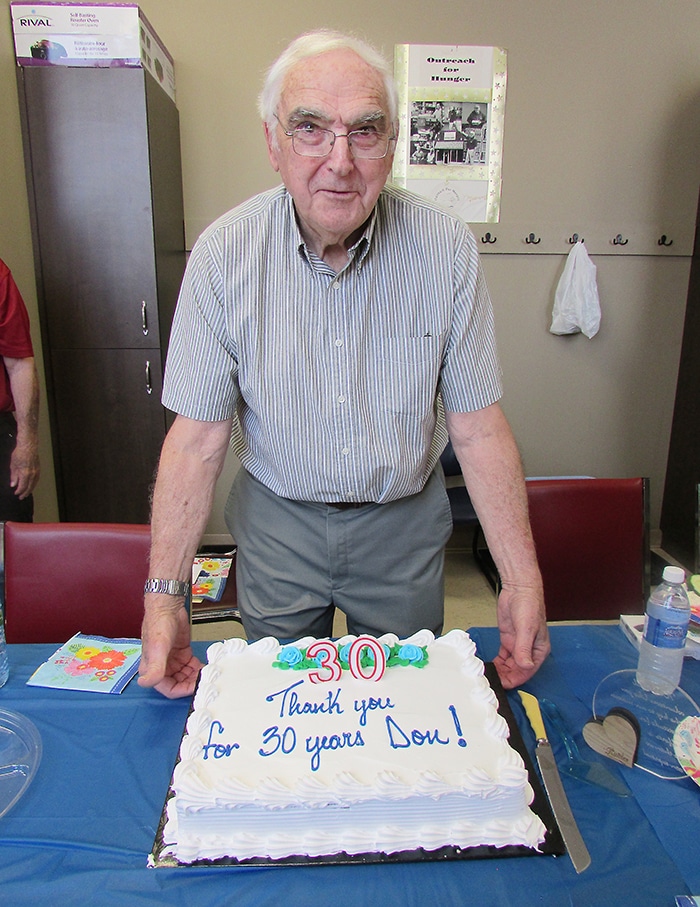 After more than three decades of working five days a week at Outreach for Hunger in Chatham, long-time volunteer Don McGregor is handing in his key.
McGregor was given an official goodbye at a special luncheon recently by OFH staff and fellow volunteers, with a goodbye speech that brought a tear to not just his eye.
OFH executive director Brenda Leclair said McGregor has been with the food bank since its beginning.
"He probably has been one of our most devoted volunteers," Leclair said. "He actually had his own key to the building because he would come in at 7 a.m. five days a week, sometimes on Saturdays and holidays, and spend the mornings taking care of food drives, organizing the warehouse, checking (expiry) dates, organizing other volunteers in the back, and just being here for anything and everything we need him for."
At age 85, McGregor has been a big part of OFH over the past 30 years, and Leclair wanted to ensure they honoured him and his commitment to the food bank and its growth.
"Today is about honouring him and thanking him. He's made a lot of friends along the way and we had a very emotional speech from him a few minutes ago. It's just about letting him know what a difference he's made to the community, and to us as volunteers working with him and getting to know him," Leclair added.
McGregor said he was drawn to OFH after attending a church meeting where Heather Bondy talked about getting a food bank up and running. He and his wife, Barb, signed up, and McGregor said it was just a small place when they first got up and running on King Street, a difference from the building they now have on the corner of Wellington and William Streets.
"It went from that meeting at St. Joe's and it just got bigger and more volunteers, and one thing about Chatham, I've always said – I'm from Winnipeg originally – if there was any need for something, this lady (Leclair) would go out and get it. That's why in the back, you look and we're never short. We get close, but that's when she goes into action. You couldn't ask for a better boss," McGregor said.
When asked what he enjoyed most over the past 30 years, with no hesitation, McGregor said it was the people he met.
"Some come for one visit, some come for 30 years," McGregor joked.
The retiree said he wouldn't be getting up at 5:30 a.m. any more, and plans to "get up when he gets up," read his paper, have a coffee, and jump in his car to get two lottery tickets.
He was very touched by the party thrown in his honour and said it equaled the party he was thrown after retiring from the Ministry of Transportation after 30 years there.
He has some people he volunteered with he will miss and said they are all good people.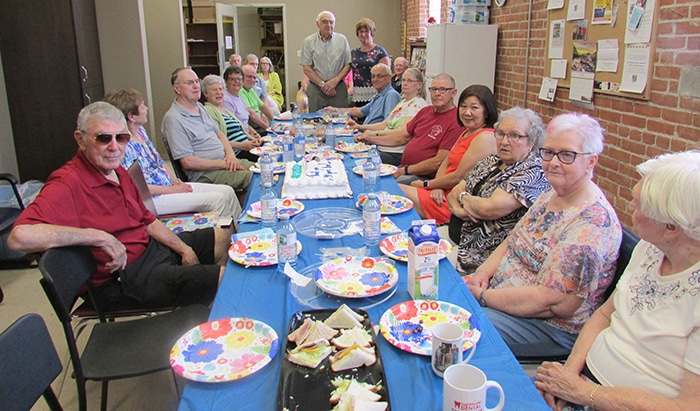 Comments
comments