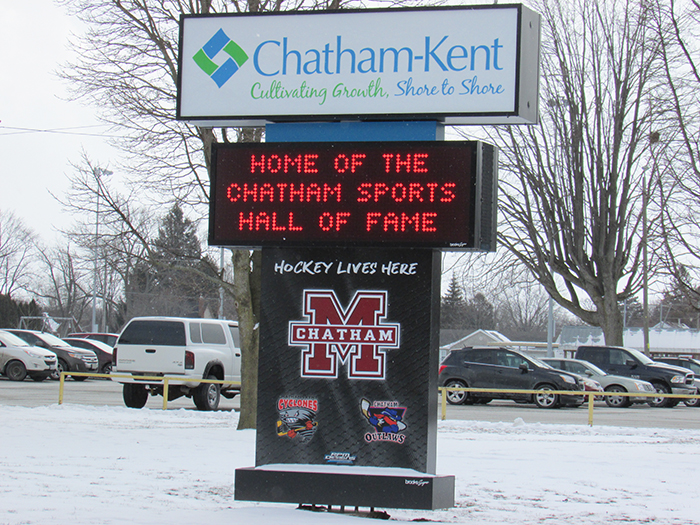 Following a public survey and open house, municipal staff will compile the data and deliver a report back to council in a couple of months on the future of arenas in Chatham.
Staff held an open house on Feb. 28, where upwards of 70 people attended to discuss arena options. The issues are does the municipality replace the aging Memorial and Erickson arenas or does it shell out for renovations to the existing facilities?
According to the recent arena survey, in which more than 2,500 people responded, nearly 34 per cent want to see a new $65-million twin-pad facility with one rink able to accommodate 4,000 spectators.
About 23 per cent want the twin-pad options, but with a smaller, 2,000-seat option, at $50 million.
But nearly three in 10 respondents said they'd like to see the existing rinks maintained and no new facility built.
Three per cent favour one new arena with a 2,200-seat capacity, while about 10.5 per cent want to do a different route altogether, and submitted ideas.
As for last week's public meeting, Jeff Bray, manager of parks and open spaces for Chatham-Kent, said municipal staff encountered a great deal of passion in the room.
"I understand. I've been here four and a half years and this is the second time it (the arena issue) has come forward," he said. "I sense the frustration and understand that."
He said after the meeting finished, informal discussion continued.
"Afterwards, we had valuable one-on-ones with people. They understand what we are trying to do – lay down the foundation to help council make a decision on which way to go," he said. "I think we got some valuable feedback that is reflected in the survey results."
Bray knows something has to be done, given the age and condition of Memorial Arena. But he added the decision has to factor in everyone in Chatham-Kent, not just the arena users.
Two-thirds of respondents indicated they are current arena users.
"We have to do what's best for the greater population. Not everyone uses the arenas," he said.
Bray added that is why administration is investigating the possibility of a multi-use complex, where outdoor athletic fields are included. He said that would serve the greater needs of the population and has the potential to be used 365 days a year.
Incorporating a walking track and other amenities would give parents exercise options during the winter months when their children have hockey practice.
"It would be one-stop shopping, so to speak," he said.
Some people would like to see even more. The Build the Complex CK movement wants to see the former Navistar property on Richmond Street used to house a new twin-pad arena, with athletic fields nearby, plus the VIA Rail station, a bus hub, as well as a mix of commercial and office space.
Bray said there are unknown costs associated with such a plan.
"Navistar is a good site, but every time it's brought up, people forget we don't own it and we don't know what type of construction will be allowed there because we don't know the soil conditions," he said.
Bray said staff will compile the feedback and survey information and build a report to council for its May 27 meeting.
"It will give a synopsis of this and hopefully provide what we'd like to see in the next steps," he said of the report. "We'll have to determine the size of the site we'd need. Would it be multi-use, do we need more acreage for soccer pitches and ball diamonds? We have to know what type of facility council wants and then we can proceed from there."
Comments
comments
« Watson takes on additional integrity roles Frosty, but beautiful »