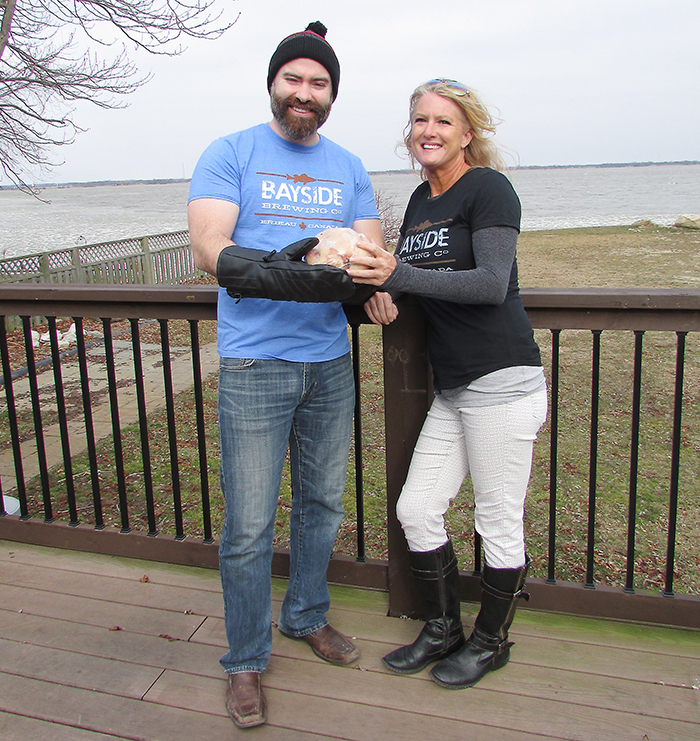 Designed to get people outside to have a blast for a good cause, Bayside Brewing Company is running its Chuck a Chicken contest next month.
Taking place Feb. 23, the event will see contestants try to mix their curling, bocce ball and shuffleboard skills to chuck chickens along the ice to try to hit a target area.
Proceeds will go towards Erieau's Accessibility Park.
Brent Wilken, head of marketing for Bayside, credits Donna Polowick for coming up with the oddball fundraising idea.
Polowick said it actually evolved out of a golf tournament.
"I was in a Caddyshack-themed golf tournament this summer in the Niagara region. We got all dressed up. We were the only ones, except for the bartender," she said, adding the bartender suggested Polowick and her friends return in the winter to take part in the chuck a chicken contest held there.
She did some research and decided to bring the concept to Wilken.
"What a good way to bring people to Erieau in the winter," Polowick said.
Wilken said he wasn't overly surprised by chuck a chicken.
"Donna always has ideas outside the box," he said.
"She is perfect. She is kind of the party planner for it," he said of Bayside's Chuck a Chicken event. "We want to do all kinds of stuff, fireworks, have Acoustic FM play the after party; there will be fire pits burning all around. It should be quite the scene."
Wilken said interest began as soon as they announced their plans.
"Reception for this has been incredible. Out of anything I've ever organized, the feedback for this has been the best. Eighteen people signed up from the Chatham Granite Club," he said. "Right now, we're just hoping for 200 participants. That's what we felt we can host on Bayside grounds if there is no ice."
So far this winter, it has been unseasonably mild.
Registration costs $35 per person. Teams of four can register together as well.
The chicken drops at 2 p.m. and chuckers will be on the ice until about 5 p.m., Wilken said.
Following the fowl competition, there will be awards and the aforementioned after party at Bayside.
For more information, contact Bayside at 519-676-8888.
The frozen chickens used in the competition will all have previously been designated for use as animal feed, Wilken said, and they will wind up there after the competition.
Comments
comments