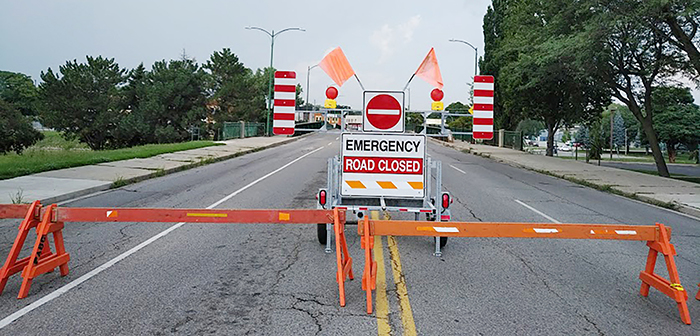 The closing of the Third Street Bridge for safety reasons comes as little surprise to Chatham-Kent's general manager of infrastructure and engineering services.
Thomas Kelly said upgrade work on that bridge, closed to vehicular traffic Aug. 3 when an inspection team found areas of concern, was slated to follow the Fifth Street Bridge, which was reopened little more than a month ago.
"We had it in our 10-year plan. We knew we'd do the Fifth Street Bridge and knew Third Street would be right on the heels of it," he said.
The closure of the bridge is a precautionary measure, Kelly said, as an inspection team found corrosion in some of the steel support structure of the bridge.
"We're required by the province to inspect every single bridge in Chatham-Kent on a biannual basis. Sometimes, we do it higher than that. This one was higher as we knew it would be in need of some rehabilitation," he said of the 57-year-old bridge. "Structurally, it's still sound. It's the deterioration caused primarily by the salt on the roads. We saw some details that caused concern and decided to look deeper and close the entire bridge."
A consulting firm has been busy examining every nook and cranny on the bridge to give the municipality detailed information on its condition.
"They're going through every single beam on that bridge. We should know more (this) week," Kelly said.
He doesn't anticipate the bridge will be closed for an extended period of time.
"It shouldn't be too long, but I can't commit to anything until I see the report," Kelly explained. "I'd rather give an update in a couple of weeks' time and then I can say for sure. We'll get a feel for how much work truly needs to be done."
As for the salt damage, Kelly said it's unavoidable, but added road salt is why the municipality has crews out washing down bridges each year.
He said feedback from the public has been mostly positive on the closure, as most people understand the "better safe than sorry" position the municipality has taken.
"They appreciate the fact we're looking out for the public," Kelly said. "I know some people might be frustrated. We're sorry about that, but with a lot of these bridges, it's all about when they were built."
He said half of the 859 bridges in Chatham-Kent were built in the 1960s and 1970s, and "they're all coming due (for rehabilitation), particularly the large ones."
The municipality did the Parry Bridge on Keil Drive in 2016, and recently completed work on the Fifth Street Bridge. Kelly said the Lacroix Street Bridge is in good shape at this time.
"When we get done this one (Fifth Street), we'll be in better shape for a longer period of time, in Chatham at least," he said.
Kelly said the bridge closures and repaving efforts in the downtown core have caused for upheaval in traffic patterns.
"I understand the inconveniences, but we've made a lot of positive changes," he said.
Comments
comments