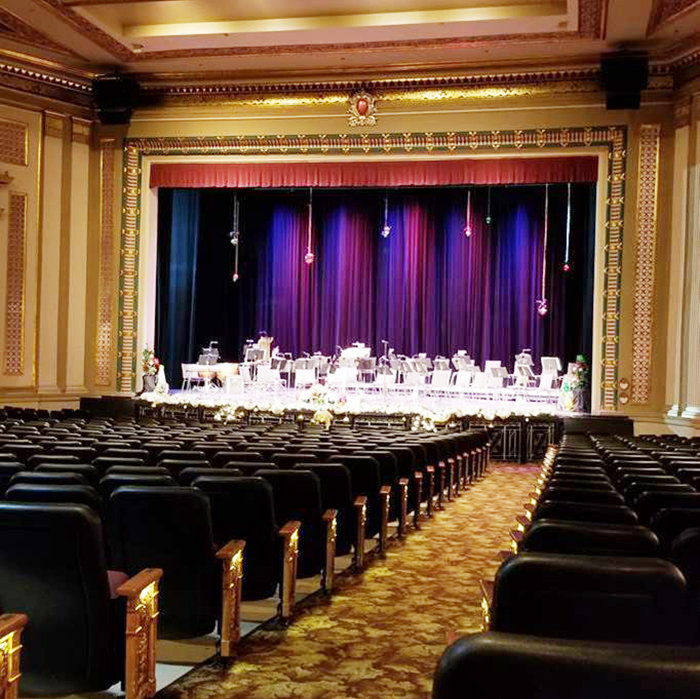 Sir: This view is my office. At least it has been for the past seven years. For 21 years prior to that, it was the Kiwanis Theatre. A unique career to say the least.
Challenging at times but for the most part, very happy memories were made in both of these spaces.
From this view I have developed programming plans and marketing strategies, written countless emails and endless to-do lists. In fact, I'm sitting here right now writing this post.
This view is my favourite spot in the theatre. From this view I've watched hundreds of shows and likely thousands of performers. Singers, musicians, dancers, actors, speakers, politicians and a few animals have all been part of the entertainment that I've been a part of providing for the community.
This view has provided me with inspiration, confidence and most of all it has been my safe place. Sometimes I sit in the dark, listening to what the theatre is trying to tell me. Sometimes it sparks an idea or two, but usually it's telling me to get my a** back to my desk to take care of the mountains of paperwork. LOL.
I've had several months to think about the impact that my job has had on me. And as much as I complain about the endless shortage of pretty much everything, the most important thing that this theatre has given me is friendships.
To the many business owners, managers and colleagues who I feel proud to call my friends, thank you for your support of our programming and activities. There are too many of you to name, as I fear I will forget someone, but you all know who you are. I couldn't have done my job without you.
To the many local performers and organizations that I've worked with, you are all incredibly talented and I feel so proud to be able to have worked with you. Tom Lockwood, all the wonderful people at Theatre Kent, Cindy Waddick and the Chorale, CKSS Musical Theatre Department, Ken Crone, and most recently my beautiful friends at Studio Black Productions: Rachel, Christine, Dan, Paul, Cerah, and JC, you are all amazing. You have shaped my life more than you know.
To my crew of volunteers, thank you for your gift of time and your gift of friendship. You are the true meaning of a community champion and I will never forget your endless enthusiasm for the theatre and for the people that visit.
To the visitors who come into our building every day, thank you for attending our shows and events. I have met so many people over the years and I'm thankful that so many of you keep coming back, year after year, show after show. We must be doing something right!
I tried to come up with a total number of visitors to both the Kiwanis and Capitol Theatres over the past 28 years and it's staggering. People have stepped over our threshold over a million times! I know, unbelievable, isn't it?
And lastly to my wonderful staff, you have been my rock. I say that in the singular because that's how we roll; as a single unit working together to a common goal. On the technical side, Ryan, Nick, Spenser, Erica & Drew, you are the magicians that work silently behind the scenes to make everyone look and sound fantastic. You have always had my back, quite literally at times. On the customer service side, Dale, Patty, Jalyssa, Allison, Kelley, Shirley, Penny & Christine, you have always gone the extra mile to ensure that our visitors are enjoying their time with us. All of you are the backbone of the theatre and you should all be proud of what you've created. It's quite a legacy.
So as I remove myself as the admin on our Facebook page and give back my keys, credit card, laptop, phone, logins and passwords, I realize that I will miss all of this tremendously. But the next chapter in my book awaits me and I am looking forward to it with anticipation and excitement.
I will fondly remember how much everyone has impacted me. Thank you.
Lesley Grand
Former manager
Chatham Capitol Theatre
Comments
comments