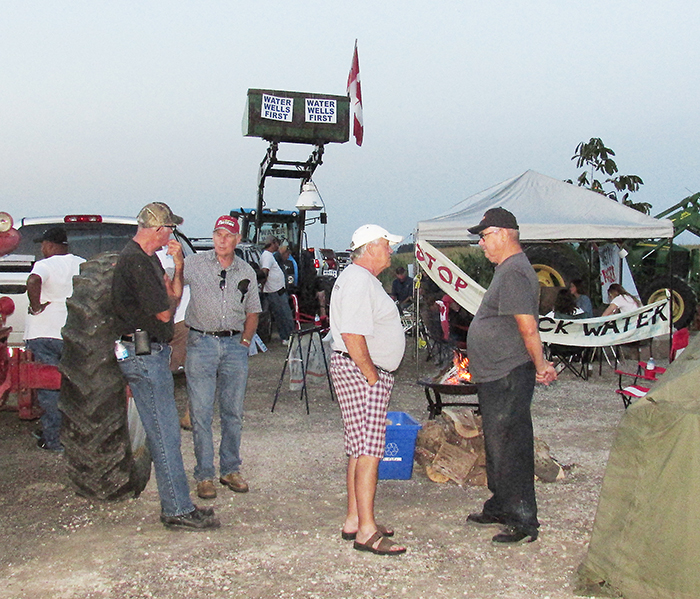 Pattern Energy workers at a Bush Line turbine construction site left 30 minutes after crossing a blockade by Water Wells First Friday morning.
Jackie Girard, a member of Water Wells First, was at the site and said seven workers crossed the blockade this morning than was manned by eight members of Water Wells First. She said the members were upset because two Thunderbird Prayer Poles, considered sacred ground by First Nations peoples, were erected on the site, and the land has been claimed by Cindy Soney, Head Crane Clan Mother and Hereditary Chief of Great Turtle Island (North America).
Girard said there were three police officers at the site who told her that they would not be asking any protestors to move from the Bush Line site unless Pattern Energy was successful in getting a court injunction that resolved the legal claim to the land.
Chatham-Kent Police Public Information Officer Const. Kelly Helbin confirmed that CKPS officers were only at the Bush Line site to keep the peace and until a court injunction was produced by Pattern Energy, they would continue in a peacekeeping role.
Helbin added that the company had indicated they expected to have the injunction by Friday, or Tuesday after the holiday weekend.
Matt Dallas, media spokesperson for Pattern Energy confirmed in a statement that the company is seeking an injunction to remove the protestors on Bush Line.
"North Kent Wind regrets that it will have to seek an injunction against unlawful activity that is presenting a serious safety risk to the participants and workers on site. We must provide a safe environment for our workers," the company said in an e-mail statement Friday. "We understand there are concerns about groundwater and we are committed to working with the community.  We have actively engaged and responded to concerns and hired qualified experts that have conducted testing at the project site and confirmed in detailed reports that the construction of the turbines will not cause harm to groundwater quality at water wells or in the broader subsurface groundwater environment. These reports are available on North Kent Wind's website."