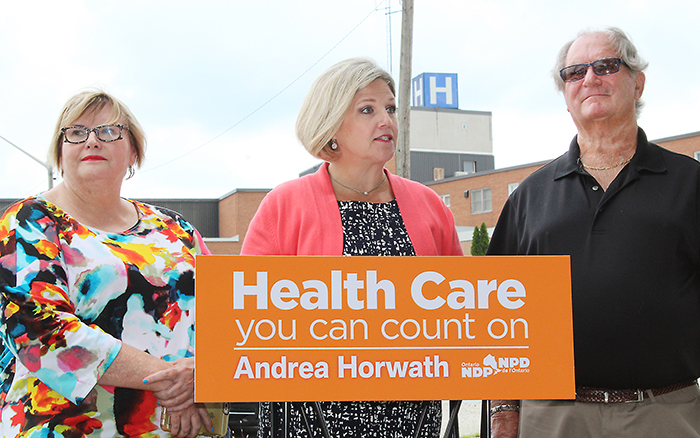 Ontario NDP leader Andrea Horwath says Wallaceburg's hospital is "losing out" on services and funding from the provincial government.
During a stop in Wallaceburg on Thursday, Horwath said government documents her camp obtained through a Freedom of Information request did not provide adequate rationale for the Sydenham Campus of the Chatham-Kent Health Alliance being stripped of its small and rural hospital designation.
"When I was last here, I said I would come back with answers about that change," Horwath told reporters during a press conference held across the street from Wallaceburg's hospital.
"I went back to Queen's Park and had my staff start working on Freedom of Information requests, and it took us 13 months to hear back from the Ministry of Health about the change in the designation of this hospital. What we heard back didn't inspire a lot of confidence in this government's health-care leadership."
Horwath said the rationale that the Liberal government used to justify "stripping services from this community was essentially that keeping the accounting clear between Sydenham and Chatham was too complex to even bother.
"And while the hospital falls within the definition of 'small,' as I think everyone agrees, the (Kathleen) Wynne government decided that it was eight minutes too close to Chatham to count as rural. So because it only takes 22 minutes to drive to Chatham and not 30 minutes to drive to Chatham, this community is losing services, losing beds, losing care," Horwath said.
This change highlights how "out of touch" the Liberal government is with the people who live here, she said.
"I am glad I am back here today to tell you that New Democrats actually do get it," Horwath said.
For provincially appointed CKHA supervisor Rob Devitt's reaction, click here.
"We know that health care in communities of all sizes means more than just an emergency room. Ontario's New Democrats are going to continue to fight to restore health-care funding here in Wallaceburg and across Southwestern Ontario. We believe that every Ontarian should be able to access the care that they need where they live. Whether that means world-class home care services or going to the local hospital that has been an anchor in your community for generations. But without a change in government, that may not be an option for too many Ontarians."
Horwath said Ontario's public hospitals have been "pushed to the breaking point" by Liberal and Conservative cuts.
"The Conservatives, when they were in government, fired 6,000 nurses, they closed 28 hospitals and slashed over 7,000 hospital beds. Wynne's Liberals have done even more damage. We saw four years in a row of frozen budgets in the hospital sector. Over nine years, including those four, we have seen less than inflationary increases of hospital budgets. Just this last budget alone, $300 million was shorted by the Wynne Liberals for the hospital sector," Horwath said.
The Ontario NDP leader said with Wynne at the helm "this crisis is only going to get worse.
"More communities like Wallaceburg are going to see their local health-care services being whittled away bit-by-bit. An NDP government will guarantee, and this is something we announced at the beginning of the year, the NDP will guarantee that hospital funding will always at a minimum keep up with inflation and population growth because in some areas of Ontario, communities are facing population growth and (we'll) also be responsive to the unique health-care needs that our communities face each and every year," she said.
Horwath said, if elected next year, the NDP would place a moratorium on any further layoffs of nurses and any further layoffs of frontline health-care workers, professionals, technicians, providers of health care until a comprehensive plan is in place.
"Only a New Democrat government will be introducing a universal Pharmacare plan," she said.
"A drug program that covers everyone. No matter what your age. The time has come for Ontario to have a government that will fight for community hospitals and fight for the local health-care that generations of Ontarians have depended on, no matter the size of their hometown."
Conrad Noel, chair of the Save Our Sydenham (SOS) committee, said during the media conference that the local group will continue to fight for Wallaceburg's hospital.
"Thank God we still have an 'H' on the building itself," Noel said.
"SOS was created and remains very vigilant ever since. We need to make them aware of what's going on, we need to make them accountable to the community. We're looking for a viable hospital. Right now we have an ER, we have a few things, but they have promised us other services and we're still waiting for the services. When we look at the five beds, five beds is not enough. We need more to be able to accommodate our patients here in Wallaceburg."
Noel added that the Sydenham Campus needs to once again be designated as a small/rural hospital and the new governance structure needs to remain as an open board with the Chatham-Kent Health Alliance.
Shirley Roebuck, chair of the Chatham-Kent and Wallaceburg-Walpole Island First Nation Health Coalitions, said a new government approach to health care is needed.
"The building behind us is very special for everyone in this community, but there are so many communities across Ontario who are being starved because of funding also," she said.
"Every community is having the same fights that we did. Some are winning, some are not. This is why we pay taxes, to have services locally, such as health-care services. We don't need any more of Kathleen Wynne and Eric Hoskins' plans about consolidation and excellent long-term care. There are 30,000 people waiting for a long-term care bed. Home care is in disarray and people are not getting what they need."
Comments
comments