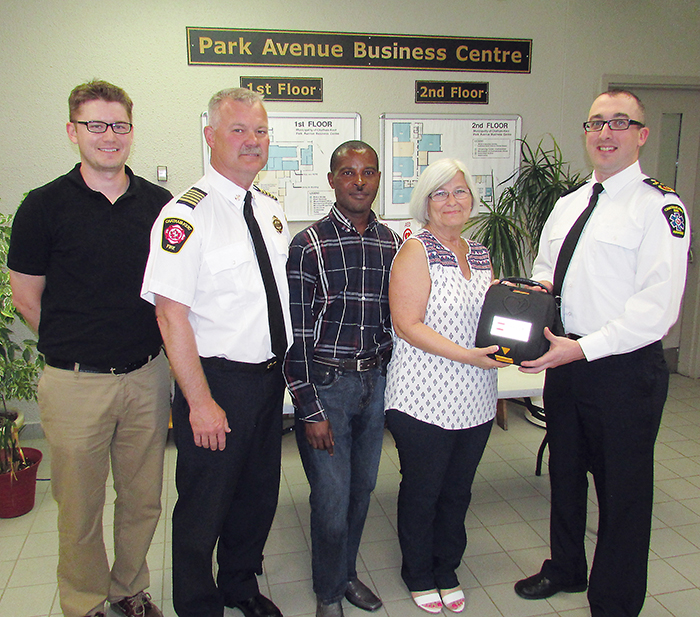 In the heart of Paramedic Services Week, municipal emergency services personnel donated a defibrillator to staff at the Park Avenue Business Centre May 31.
They also launched apps that will allow users to quickly locate public access defibrillators across the municipality and help register such units.
PulsePoint.org is the site where people can quickly find the location for the nearest automated external defibrillator (AED).
As well, responders, including citizens with CPR training can access an app notifying them when someone nearby is suffering a cardiac arrest.
Scott Ramey, assistant chief for fire and emergency services, said quick response to cardiac arrests simply saves lives.
"Every minute that passes, your chances of surviving is reduced by 10 per cent," he said.
Even getting someone with basic CPR training to perform chest compressions will help. And now, as more and more public access defibrillators are distributed throughout Chatham-Kent, even untrained citizens can help save a life after a cardiac arrest.
Ramey encouraged members of the public to take the full CPR course, but added that with the Good Samaritan Act, and because the defibrillators have voice prompt instructions, people can step in to help without such training if a person is having a cardiac arrest.
"No response time is fast enough in the case of a cardiac arrest. If someone nearby knows CPR, it increases your chances," he said.
Ramey said the public can help pinpoint where additional defibrillators are located by using the app. If someone sees a defibrillator and checks the app, only to see it is not registered, they can send a note and emergency services personnel can follow up.
"We don't always know when they (defibrillators) go into businesses like banks and grocery stores," he said.
Ken Stuebing, chief of fire and emergency services in Chatham-Kent, agreed.
"There are a lot of community-minded businesses who are proactive and put in defibrillators. But we have no idea where they are located," he said.
Ramey said the business centre received the defibrillator because of the high volume of traffic at the facility on Creek Road.
"We look at a number of factors to determine where to put the defibrillators," he said. "We've got lots of different departments, groups and outside programs here. A lot of people are here at various times."
Chatham-Kent will also mirror a program that started in the Guelph region where a couple of defibrillators will be available for the public to sign out. Ramey said people can get orientation on the units and then take one for a special event, for example, offering peace of mind for the event.
Comments
comments