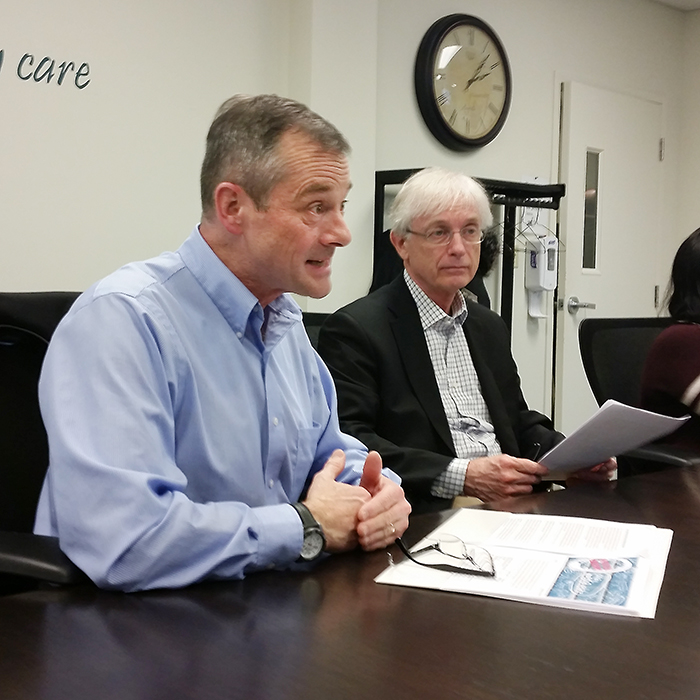 The Chatham-Kent Health Alliance is broke, but not broken.
At an informal meeting with members of the local media on Jan. 18, Rob Devitt, the supervisor of the health alliance, and Ken Deane, the interim CEO, said the alliance is running on empty.
Following years of operating at a deficit under previous overseers, the CKHA has rung up $10 million in a line of credit and will get no more money from the bank.
Instead, they asked and received a cash advance from the province, getting March cash flow for January.
Deane said he anticipates that by the end of March and the fiscal year, the CKHA will have run a $3 million deficit.
"This is a result of recurring deficits and money spent on equipment," he said.
It is frustrating and has to stop, Deane and Devitt added.
"We're spending money on interest each month that does nothing for patient care," Devitt said. "We are going to work with staff and the physicians to work out a solution."
If nothing changes, they predict the hospital would face an annual deficit of $8 million by 2018-19.
Deane said the alliance would conduct a benchmark analysis to look at the efficiency of all elements of operations. The goal is to find ways to save $8 million in annual spending by the end of April for the 1,300-employee, $140-million operation.
Deane thinks it is possible to reach that $8 million reduction target without impacting service or staffing, as other similar-sized hospital operations are providing the same level of service for between $5.1 million and $9 million less in annual spending.
Devitt has been in the supervisory role since late summer, appointing Deane as acting CEO shortly after his arrival. Both admitted there has been a great deal of progress to date, as they review how the alliance has operated, and enact changes.
Several key changes have already taken place, as the former administration has been downsized, and new positions created and filled. Lori Marshall will take over as CEO April 1, and Dr. Pervez Faruqi is the new chief of medical staff.
Faruqi has been a consultant pediatrician at CKHA since 2010 and has held the role of chief of pediatrics since 2013.
"We sat down with our medical leaders to completely redesign the leadership structure," Devitt said. "I've never before done this significant of a reorg. We've had just outstanding leadership from the physicians."
Deane said the whistleblower hotline is up and running, and overseen by a third party to help ensure anonymity. He said he views it as a Neighbourhood Watch of sorts.
"We are going to keep watch on our assets and resources. We're collectively protecting our neighbourhood," he said. "We're working to strengthen our workplace and have a good foundation moving forward."
Taking over after years of operational deficits at the alliance, and a tri-board that looked more like a dysfunctional family than the directors of a hospital, hasn't been an easy task.
"Three organizations working on two sites is unique," Devitt said. "But there are lots of similarities in our supervisory situation. When I look at other organizations, I see a lot of overlap, but also a lot of uniqueness."
Deane said having three hospital boards added a degree of complexity to governance for the alliance.
"There is usually a unified view, and that wasn't the case here," he said.
Both reiterated they believe the Sydenham Campus of the alliance in Wallaceburg is an integral element. Some changes are underway there, as the top two floors are now locked down, with everything taking place on the main floor at this point.
"Sydenham hospital is an important part of our rural health strategy," Deane said. "We're working to identify opportunities to redevelop the site into an affordable package. We need to determine what services can be located on that site, as we want to broaden its impact on the community."
Devitt said the idea is to identify concerns at the facility and work to strengthen it.
The CKHA is also working to create a rural health advisory committee, with members coming from key players in local health care, such as the family health teams, public health, and various geographical sectors of the community. Deane and Devitt hope to see the committee in place in about eight weeks. Devitt said it will consist of between 12 and 15 people.
"The big issues are accessibility and income inequity," he said. "These create a whole different set of problems you just don't see at larger city hospitals."
In terms of direct feedback from the public, the alliance overseers have set up askckha.com. The website has financial and governance tabs where visitors can learn more about hospital operations and oversight, and interact with the alliance.
"We're asking for ideas, comments and questions to better engage the community," Devitt said.
That includes feedback on the future governance model for the CKHA. There is no mandate to continue with the tri-board structure, for example.
"Our mandate just says, 'Fix it,'" Devitt said.
He said he could not understate the need to properly rebuild hospital oversight.
"The importance of good governance is crucial to the success of any operation," he said. "Bad governance usually leads organizations to get off track. Good governance usually leads to becoming an industry leader."
Comments
comments