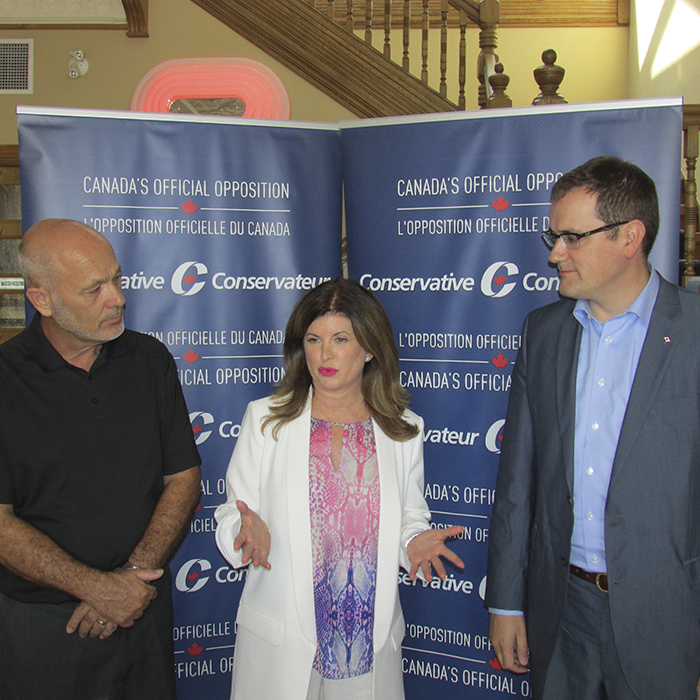 Interim Conservative leader Rona Ambrose said yesterday's intervention in a suspected terrorist plot in Strathroy demonstrates the need for the federal government not to follow through on its plans to scrap parts of anti-terrorist legislation introduced by the former Conservative government.
Ambrose, speaking this morning at Retro Suites as part of her swing through Southwestern Ontario, said "what happened yesterday is a reminder to all of us that the threat of terror is very real right here at home in Canada.
"It also reminds us that we have to be very vigilant here at home in Canada and be strong contributors in the fight against terror," said Ambrose, the leader of the Official Opposition.
RCMP Tuesday shot and killed 24-year-old Aaron Driver during an altercation in which he detonated one device, wounding himself and another person, and had plans to detonate a second.
Driver was under a police bond for supporting the terrorist group ISIS on social media. According to published reports, the American FBI tipped off Canadian authorities that Driver planned to carry out a rush-hour attack in a major city.
During last year's election campaign, the Liberal party said it would overhaul Bill C-51, a stance reiterated by Prime Minister Justin Trudeau in May.
Trudeau said the bill went too far in granting police and security agencies access to gather and share the personal information of Canadians.
The government planned to seek public opinion on the law but hasn't introduced any changes.
"Bill C-51 gave security forces and intelligence officers extra tools to make sure we could thwart these terror plots," Ambrose said, noting that provisions in the bill have been "used judiciously two dozen times in the past year to actually thwart terror plots here in Canada."
"We are calling on them to reverse that promise and reassure everyone in Parliament that they will keep those tools in place because they are being used effectively."
Comments
comments