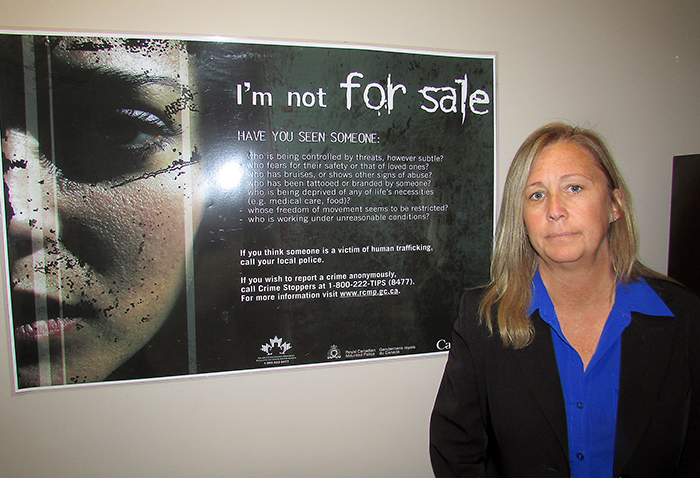 Editor's note: This is part one in a two-part series about human trafficking in Ontario
According to the Ontario government, human trafficking is one of the fastest-growing crimes in Ontario, which accounts for 65 per cent of police-reported cases nationally.
And more than 90 per cent of the victims, mostly female, are Canadian-born, averaging 14 years of age.
That is not the picture most people have when they think of human trafficking, but those are the cold, hard facts of what is going on around us, here in our own community, along the 401 corridor from Windsor to Toronto. Our teens are being lured by promises of something better, someone who "gets" them, will love them, will buy them nice things if only they do them this little favour.
OPP Det. Sgt. Kimberly Miller, regional abuse issues co-ordinator for West Region, deals with human trafficking as part of her job, operating out of the Chatham detachment on Park Avenue, and she said the incidences are under-reported, making it very difficult for there to be any solid numbers regarding victims and perpetrators.
Awareness of the issue – that it is a reality in our country, our province and even our communities – is a key to keeping girls, and to a lesser extent, young men, from becoming victims. They are human beings with families and dreams.
"The reality of it is it is here in Canada, and girls from anywhere really, are who they target – kids from shelters, who have been in the system, who may suffer from depression or mental health issues, teenage runaways, immigrants, kids with addiction issues and migrant workers," Miller said.
"Some are lured by the 'romantic' pimp, who loves you, gets you to love him but makes you do things you don't want to do."
One such alleged Romeo pimp, as he is called, is currently in custody in Toronto awaiting trial. In an interview with a reporter from the Toronto Star, Matthew Deiaco, charged with trafficking, kidnapping, assault and forcible confinement, explained he believes there is nothing wrong with what he does. He said in the interview that he gets girls to fall in love with him because they are "broken" and "just want to hear someone say I love you," and gives them the illusion that she will have the dream, if she just has sex with other guys.
Miller said many of the girls in the sex trade don't grow up wanting to do this, they are forced into it. They never really had a choice for various reasons.
"I would encourage girls to listen to their instincts. If it doesn't feel right, it probably isn't," Miller explained. "If you have a guy promising you the world, it's easy to fall into the 'game'. If this same guy starts demanding that you have sex with other men to earn your keep or because you owe him for all the nice things he's purchased for you, I would encourage girls to get out before it's too late. That is not a healthy relationship."
With social media, Miller said it is so important to teach our kids to not give out information about themselves and watch what they say, as pimps target emotionally vulnerable girls online, at parties, outside shelters or anywhere they can find someone who may be susceptible.
In a case in Windsor, a young woman was communicating with a man on social media who convinced her if she went to Ottawa, he would show her a good time and have a good life, and when she consented, he picked her up, confiscated her identification and took her Ottawa, where he forced her into the sex trade.
In another Windsor case in 2015, a pimp convinced a 16-year-old ward of the Children's Aid Society to become a prostitute, that it was easy money and she could quit any time. He met with her, convinced her he cared for her and introduced her to a prostitution website, where ads for sexual services can be posted. He created a website for her with pictures, services offered, prices and a false name. According to the news report, after two days, she wanted out, but he would not let her quit, eventually resorting to violence and isolating the girl.
In two months before she was able to escape, the girl estimated she slept with 90 men, earned about $31,000 and was not allowed to keep any of it.
Miller said besides the Romeo pimps, teenage girls also recruit other girls into the sex trade. The pimp may have purchased her nice clothes or brand name items to keep her in the game. She then shows other girls how easy it is to have nice things and will introduce them into the dangerous lifestyle.
There are many warning signs that you, your friends and family should be aware of.
"If they start trying to isolate you, and alienate you from your friends and family or try to move you away, and it just feels wrong, trust your instincts," Miller said. "And if you feel you can't talk to a parent about it, talk to another family member, or a teacher or the police. We will listen."
Part of the awareness for the OPP also includes making sure the officers that patrol the highways are educated in what to look for when young women are being transported along major highways, like the 401 corridor between Windsor and Toronto.
"Through traffic enforcement, our officers have the perfect opportunity to engage with potential victims, gather information and offer assistance if the timing is right," Miller said. "It's very important that we work together with other law enforcement agencies and our community partners to that we can put an end to this victimization."
Miller said the public should have some understanding of what human trafficking is all about so that there are no missed opportunities to help save a girl from the life she never chose. In one case of human trafficking, it was a hotel/motel employee that alerted police to the potential situation. That is why it is so important to educate and raise public awareness within our communities.
"If you see something that doesn't look right, give the police a call and let us look into it," she said. "We need public support to promote public awareness. We're not trying to alarm any one, we just want to make them more aware."
A big problem, however, is that trafficking is a victim-based crime, and unless the victims come forward, there is not much the police can do, especially with child protection laws only covering youth up to 15 years of age.
"We need victims to trust us and know we will listen with open ears and with compassion," Miller said.
Anyone who may need police help, or who may know of a victim who needs help can call the OPP at 1-888-310-1122, your local police service or Crime Stoppers 1-800-222-8477.
Comments
comments