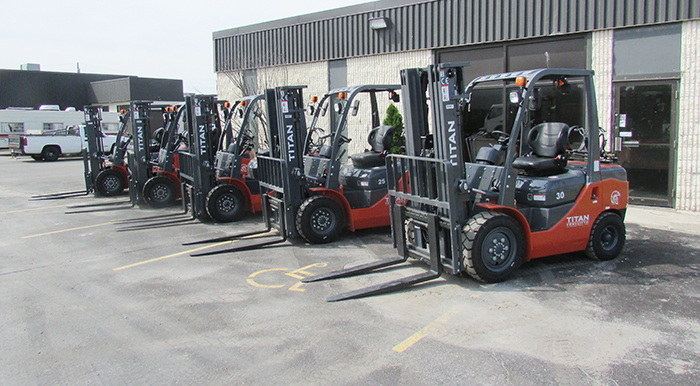 The mysteries of doing business in China seem a little less mysterious this week with news that a Chatham company has gone from product concept to showroom floor in a little over a year.
Titan Forklift last week took delivery of the first units of its custom-made forklifts assembled in China from parts made in North America and Japan.
By this time next year, the company could be making units in Chatham and employing local talent that has been underutilized since the last economic downturn.
The goal of Titan is not to be just another player in the field, but to be a dominant one, using Chatham-Kent talent and knowledge.
Jim Adams, company founder, assembled a team with business savvy on this side of the world and knowledge on the other.
In so doing, he accomplished more than a decade's worth of municipal trips to China.
Taxpayers have been told for years about how important it is to establish long-term relationships and develop respect.
Adams' team didn't talk about it, they did it.
It's time for a change in outlook in economic development strategy in which our municipal officials aid private enterprise instead of trying to do the job of that sector on their own.
Of course there are other local firms already doing business in China but this example should finally drive home the point that scarce municipal resources should be used where they can do the most good, not where they can fulfill political promises.
In the end, what matters to Chatham-Kent is what creates jobs.
It seems increasingly clear that if we want jobs, not promises; we need to change our direction.
***
The lack of representation by CKHA officials at last week's Sydenham District Hospital annual meeting underscores the fact that if the Alliance is to retain its tri-board governance model, CEO Colin Patey should not continue here.
When an employee has to communicate with his employer through emails and media releases, the relationship is irreconcilable.
Until such time as the provincial investigation into the governance and management of the CKHA is over, nothing can be settled but it's obvious a new start would be best for the Alliance and the public's perception of its activities.