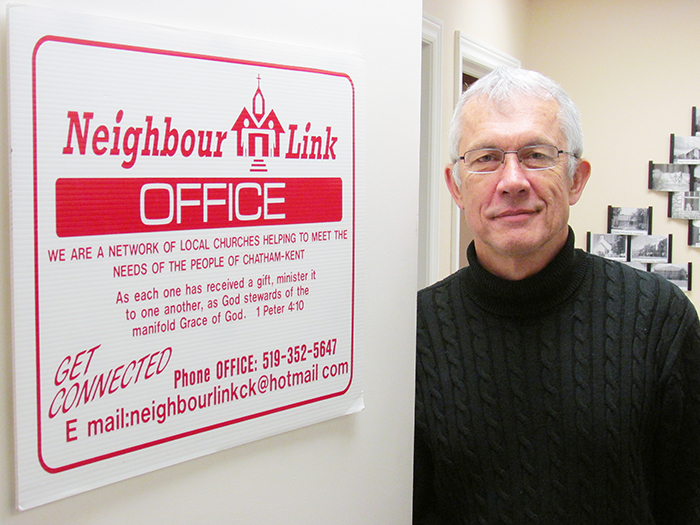 Seeing the person behind the problem is the key to success for NeighbourLink Chatham-Kent's WrapAround program, according to co-ordinator Andrew Hawkins.
"It's easy to label someone, but once you do that they lose some of their humanity," he said. "We recognize that the people we are helping are just like us. The situations people find themselves in are far too complicated to just label them this or that."
WrapAround has been operating for three years and is one of three programs operated by NeighbourLink , an association of 29 churches whose mandate is to engage volunteers in meeting needs which are not being met by other services.
It was founded a decade ago with help through the United Way.
The association connects volunteers with clients for things such as transportation, food and furniture.
The second level of service is in mobilizing groups of volunteers for projects such as home renovations or help with a housing move.
WrapAround offers clients long-term help based on the idea of helping the individual realize the underlying cause of the problem they have, be it substance abuse, poverty, financial hardship or something else.
"We need to address the immediate issue but we go farther than just providing goods or money."
Combined, the programs serve 1,500 clients per year thanks to 300 volunteers who served 29,000 hours.
The "link" portion of the group's name highlights the fact that a key part of the group's mandate is not to duplicate work being done elsewhere.
If help for a particular client is available elsewhere, that client is directed to another agency. If not, NeighbourLink seeks to step in with practical help.
Hawkins said WrapAround uses a six-point philosophy in which it empowers the client to take charge of their life, helps develop a vision for the future, works on the clients' strengths, uses a team approach, builds a plan for the future and monitors results.
The relationship can last up to two years.
"The biggest factor in our success has been developing a relationship and trust with clients," he said. "We believe in them and for many people it's been a long time since anyone did that, even themselves. In some ways we are purveyors of hope."
Hawkins recalls one client who was born to a mother suffering from drug addiction and had grown up in a world where that was the norm.
She had developed an unhealthy relationship and had no expectations of the future.
"She's a smart woman who, with some support from mentors, began to realize she didn't have to live like she was," he said. "She ended the relationship and is now heading into her second year in college. She never dreamed she'd be smart enough for that."
Even though Chatham-Kent has a small population, Hawkins said many in the middle class have no idea how difficult life can be for those left behind economically or socially.
"The poor shop in different stores, they don't hang out in the places others do. Just because we can't see them doesn't mean they aren't there."