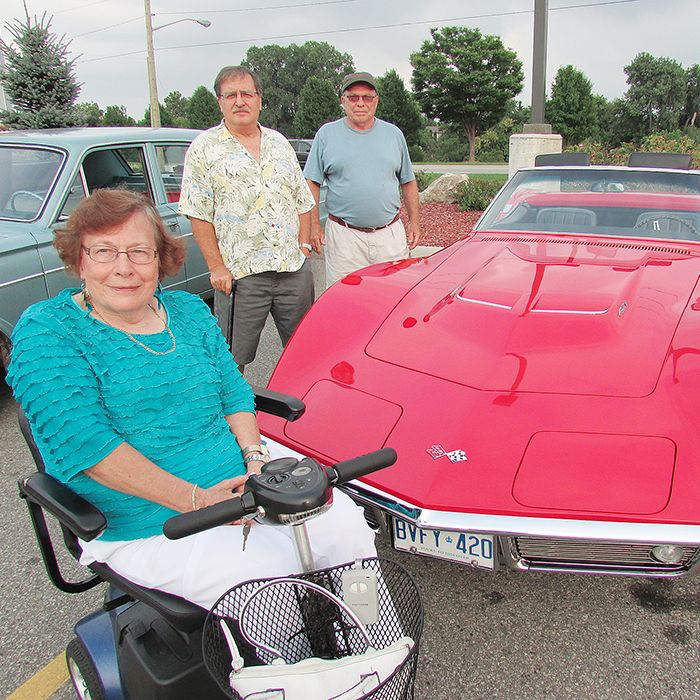 A&W owner Bob Moon, in back, shows off his 1968 Corvette that he has restored and showcased during the Cruisin' for a Cure fundraising event Thursday evening. With him are Ron Smolders, standing, and Anne Mann, who live daily with the symptoms of Multiple Sclerosis.
What do classic cars, Teen Burgers and Multiple Sclerosis have in common?
All are important pieces of Cruisin' for a Cure, an annual fundraising event at Chatham's A&W Restaurant that raises money for the MS Society of Canada, Chatham-Kent chapter, and showcases some sweet looking rides.
Bob Moon, owner of A&W, said the annual one-day event raises money through the sale of Teen Burgers – for each burger sold, one dollar goes to MS. The event coincided with Cruise Night at the restaurant, which happens every Thursday night from about 5:30 p.m. to 8:30 p.m. where people with classic cars come and park, enjoy some food and the company of other car enthusiasts.
Joseph Grootenboer | Riverbell Market Garden from Foster Visuals on Vimeo.
A&W manager Leigh Ann Twigg said last year the event raised more than $800, and by 6:30 p.m. on Thursday, sales had already doubled that total.
"People have been great, coming through the drive thru and ordering 10 or 18 Teen Burgers," Twigg said. "We also have jars of coins still to count and a contest to guess the number of suckers in a jar. People are dropping in $10 for one guess."
According to MS Society literature, Multiple Sclerosis is the most common disease of the central nervous system affecting young adults in Canada, and it is generally diagnosed between the ages of 15 and 40 years. Symptoms are unpredictable and range from mild to severe. Currently, there is no known cause or cure for the disease, but some treatments are available for certain types and symptoms.
People who live with MS attended Thursday's event and appreciate the fundraising efforts. Anne Mann was diagnosed 40 years ago at the age of 40, and needs a wheelchair. She requires care at home morning and evening, but you would never know her condition from her positive attitude.
"You learn to deal with it. I wouldn't wish it on my worst enemy," Mann said. "It's a neurological disease – they don't know what causes it and there is no cure."
For Mann, the disease started with dropped foot and weakness, and progressed from limping to being unable to walk and needing a motorized mobility device.
For Ron Smoulders, the disease progressed differently. He was diagnosed in 1986 and needed a wheelchair, but suddenly, in 1997 he was able to get out of the wheelchair and now only needs a cane to move around.
"When I started getting out the wheelchair, there were very few people in the same circumstances as I was," Smolders said. "It's leveled off now and I am not getting any better, but I'm not getting any worse either."
Every person with MS has a different story and recently diagnosed Sharri Sears of Chatham said she was 40 years old when she heard the news. Dealing with the changing symptoms and their severity is difficult.
"I had to stop working and it was very hard to get used to," Sears said, when the symptoms progressed. "It became a challenge to stand and walk every day and the fatigue; a total body exhaustion – it's crippling."
With events like Cruisin' for a Cure, people with MS hope research will eventually lead to more treatments and eventually a cure. The local MS chapter does not have an office, but anyone who would like to donate or get more information can call 519-351-2008, e-mail ckmssoc@gmail.com or look up the website at www.mssociety.ca.