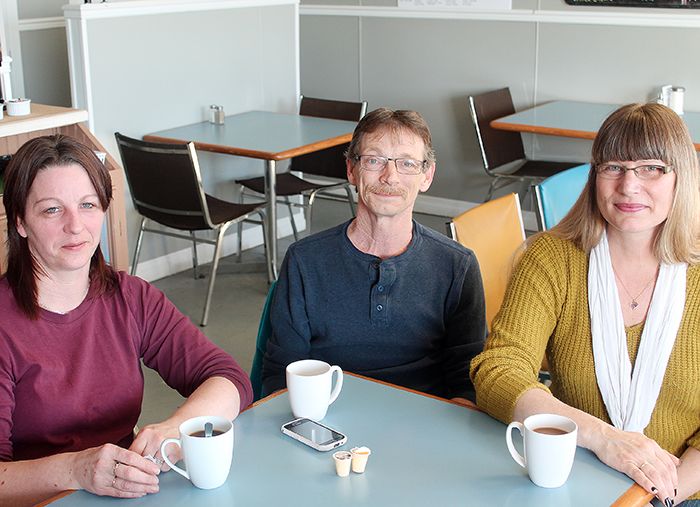 Karaoke at Mc B's Restaurant on Highway 40 almost came a day early this week.
The Oungah business at the junction of the highway and Countryview Line was a haven for more than two-dozen motorists stranded by Wednesday's massive storm that closed the highway and sent scores of vehicles into the ditch.
Riverview Bingo Palace 02 from Chatham Voice on Vimeo.
Owner Mike Andrews said travellers began coming in mid-afternoon as blinding snow and howling winds made the busy roadway impassible. The OPP closed the highway before 5 p.m.
"We have our Karaoke night each Thursday night but the way people kept coming in, we were joking it might be worth moving it up a day," he said.
Two of those who ended up spending the night in Andrews' home behind the restaurant were Ida Thomas of Wallaceburg and Sylvia Lackie of Sarnia. Both women said the storm left them shaken.
Thomas was returning to Wallaceburg after work at Community Living when a whiteout engulfed her car. "I couldn't see anything. I drive that road every day and I didn't have the slightest idea where I was. I thought I was on the road and the next thing I knew, I was in a snow bank," she said.
Lackie, on her way home from Blenheim, described the experience as being "snow blind. There was nothing to use to give me any sense of reference as to where I was," she said. "I believed I was going straight but I ended up off the road. I was well off the road and didn't even know it."
Although both women's cars were within a few feet of each other, neither knew it until a passerby rescued them after they had stayed in their cars for more than an hour.
"There was a man from Petrolia with a Ford F150 truck who came along and began taking people to Mc B's," Lackie said. "He was a real hero and helped so many people but he wouldn't even tell us his name."
Andrews said the unknown Good Samaritan and helpful OPP officers kept bringing people into the restaurant.
"The fellow with the truck pulled out a lot of cars, particularly quite a few that were stuck at the bridge just north of us," he said.  "We had a parking lot full of cars by the time they were through."
Andrews kept busy for the next several hours supplying the stranded travellers with coffee and food.
Thomas, who knows Andrews personally, said she wasn't surprised by his willingness to help out.
"Mike is the kind of guy who is always willing to help. Thanks to him a lot of people, including families, were able to stay safe and warm and have something to eat. It made a bad situation so much better."
Highway 40 has since re-opened, but more than a dozen vehicles were still in the process of being pulled out of ditches and snow banks this morning.