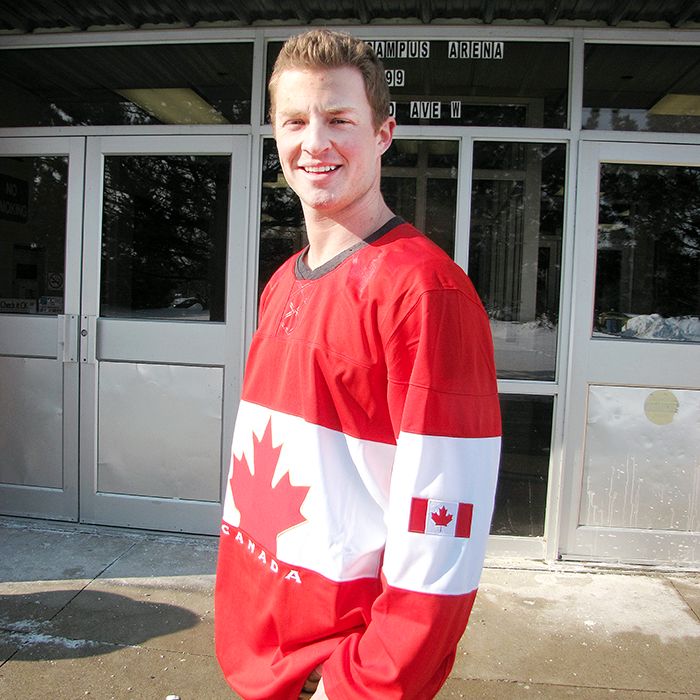 Chatham native Derek Whitson and the Canadian sledge hockey team have a score to settle at the upcoming Paralympic Games in Sochi, Russia.
The team did not win a medal in 2010 in Vancouver, suffering a shocking loss to Japan in the semi-finals and then beaten by Norway for the bronze medal.
"It will never leave but we've moved on," said Whitson, 24, of the bad memory from four years ago. "We have a different team now. We've gone through a lot of adversity since then and have a lot of successes of late."
Whitson was home in Chatham recently as he prepares for the Paralympics, Mar. 7 to 16.
Last time, he was a rookie playing on the third forward line for Canada in his first Paralympics.
He is going back as a veteran defenceman with a bigger role on the team.
"I expect more out of myself. I know that I can be an impact player this time," said Whitson. "I want to be out there when it counts in the dying seconds and I want to have the opportunity. I want to win a Gold for Canada."
The team goes into the tournament as the defending world champions, but Whitson and his teammates know the accomplishment doesn't mean much when the puck drops in Sochi.
"We've had a lot of success as of late but whatever happened in the past won't mean anything in that tournament," said Whitson. "We have to be ready and have to be going full-out and work as a team."
Whitson, who was born with cerebral palsy, started playing sledge hockey in 2000 with the Chatham Sledgehammers.
His highlights include a world junior title with Team Ontario in 2007 and the Ontario crown with the Windsor Ice Bullets in 2009.
He became a national team member in 2007 and helped Canada to two gold medals at the World Sledge Hockey Challenge, as well as the IPC World Championship in 2013.
When comparing the Paralympics to the other international competitions, Whitson said it's a different experience.
"When we walked out in Vancouver, there were 60,000 people at the opening ceremonies rooting for Canada. I'm getting chills just talking about it."
While he noted that they would be lucky to see 100 people at other games, Whitson said 6,000 people attended the sledge hockey games in Vancouver.
"You feel like a professional; you feel like you have achieved something, it's a great feeling."
And while motivated to come back with a medal this time, Whitson also hopes have a better experience at the games.
He admitted that he doesn't have a lot of memories from Vancouver.
"This time I'm bringing a camera; I'm going to take some photos," said Whitson. "This is a once-in-a-lifetime opportunity and you can never repeat the Sochi Paralympics. I'm going to enjoy every moment I possibly can."
He has a busy schedule before going to Russia.
Whitson and his girlfriend, Tara Chisholm, will be coaching the national women's sledge hockey team as they face the U.S. in a three-game series in Fort Erie this weekend.
Ashley Goure of Chatham is a key player on the team, which is not going to Sochi because women's sledge hockey is not a Paralympic sport.
After the women's tournament, Whitson, who lives in Dundas, will fly to Calgary to join his teammates to train until Feb. 24. The team then travels to Sochi on Feb. 27.
Comments
comments