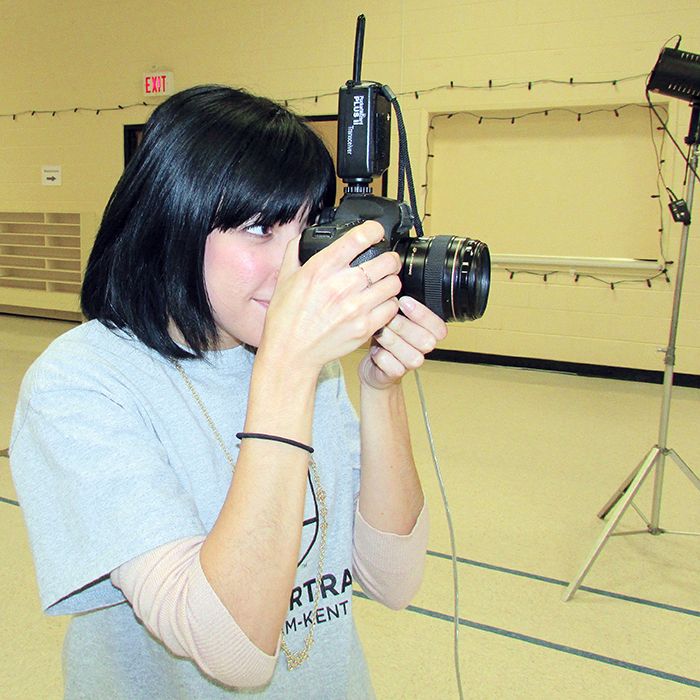 A winter chill in the air told us snow might be looming as myself and a dozen other fellow volunteers woke up early and headed to Holy Trinity Anglican Church Saturday morning to begin a full day's work at Help-Portrait Chatham-Kent.
The day consisted of curling hair, applying cosmetics, clicking the shutter button on our cameras, editing, printing, framing and delivering finished portraits for free.
What each of us volunteers witnessed in return were the surprised faces as the subjects saw their faces and their loved ones' smiles staring back at them when they got the first glimpse of their photos.
This is the second year for Help-Portrait Chatham-Kent, but for me it was my first – and likely not my last – as a photographer and assistant.
The brainchild of American celebrity photographer Jeremy Cowart, Help-Portrait is available in approximately 50 countries worldwide, providing free, ready-to-hang professional portraits for anyone in need.
Event organizer and photographer Cindy Lalumiere, along with her husband Chris, saw the need for an event like this.
While there was a noticeable difference in the turnout compared to last year, Lalumiere and her team of volunteers made sure those who did brave the chilling temperature left with a long-lasting memorable keepsake.
"I think the weather was nicer this year than it was last year and I think people are busier," offered Lalumiere as an explanation for the lack of participants.
"I think we just need to get the word out there better. My focus this year will be on advertising and media," she said of her plans to continue running the event.
"We still believe there is a need and a want for it in Chatham."
Three studio setups with a variety of backdrops, softboxes and studio lights awaited clients, along with the option of makeup and hair, all at no cost.
Those who came to get a photo taken did so for different reasons. For Dianne VanBasselaere, who heard about the event at New Beginnings, said it was a chance to get her two daughters, son-in-law and herself together.
"My sister – her husband passed away and they didn't have any family portraits. So get them while they are here," said VanBasselaere.
"Every advantage we get, we take," she added.
The very last client of the day, Ruth Faas, brought her 18-month daughter, Hope, with her. Both dressed to match in pink, Faas had a very different motivation for standing in front of the camera.
"I don't have any pictures of when I was little anymore. Our house burnt down and I lost my photos," said Faas.
"Now, I want to keep all the memories I can, and the only camera I have is on my phone."
In addition to receiving two different photos framed and ready, Faas was also grateful for the bit of pampering she got from the hair and makeup volunteers.
"I wouldn't know what to do when it comes to that stuff," she said with a laugh.
With the annual event over for this year, Lalumiere knows next year can be bigger and busier.
"There's nobody out there that doesn't want and need a nice photo. When we're dead and gone, what do people have apart from their memories? Photos, that's it."