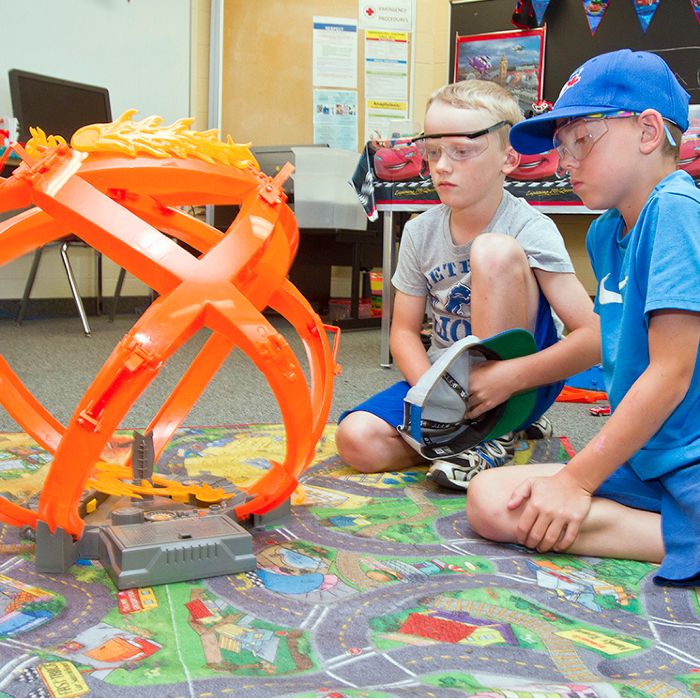 Summer may be the time students look forward to kicking their feet up and relaxing, however a group of kids are continuing their education – and having a ton of fun.
The Campus for Kids program for children aged 6-14 is in its ninth year.
The classes are held at St. Clair College at the Chatham Campus and runs for until Aug. 23.
Classes vary in choice and offer youngsters a chance to take part in art, aviation, robotics, writing, aviation, camera, magic, dinosaur or car camp, which are broken into morning and afternoon time slots.
For three years, Pat Douglas has been a program co-ordinator and is surprised with how much it has grown.
"Two years ago, we had 256 kids, last year we had 507, and this year we're looking for 700," said Douglas.
With hundreds of families choosing to register their children year after year, Douglas hopes to expand the program again in the coming years.
"We have a vision of serving 1,000 kids," he added.
One of those choosing to return is Noah Schofield. The young 11 year old is not your average local kid; he has travelled much farther than the rest of his classmates to be there – he's from the Cayman Islands and visiting his grandparents in Chatham.
Schofield is currently in his third year of aviation class and is already hoping to join again next year.
He first discovered the class when his mother found the St. Clair College's Campus For Kids schedule.
Schofield thought the aviation class sounded fun.
His favourite part is using the flight simulator on the computer and has found his skills on the controls have developed each summer.
"I used to push it all the way and my plane would go out of control, but now I know you should only move it slightly to turn it," said Schofield.
A first time camper is six-year-old Aliyah Isaac who took the Art Adventure 1 class.
At the end of her week, Isaac found she had a favourite part of her class.
"Drawing things – flowers and rainbows," Isaac said.
Her mother, Irma Isaac, who joined in on Friday's art show for the class, said her daughter took to the activities right away and had even been brought ideas home for more projects.
"It was a great learning experience and the teachers were so friendly making her feel included," Isaac said.
Art Adventure instructor Tanya Cowley is from a team of fellow teachers and volunteer high school students who see the change in confidence and creativity in the young students after even just a week.
"Some of them say they can't do this, aren't confident and by Friday when their guests come in, they are so proud and want to show off everything they have done," said Cowley.
Co-ordinator Douglas said the value a program like Campus For Kids is apparent.
"It gives us the opportunity to serve the vital young element of the Chatham-Kent community," he said.
Douglas and his team remind the public that while many classes are full, there are still vacancies and encourages parents to call him at the college on weekdays or visit www.campusforkids.ca for more information.