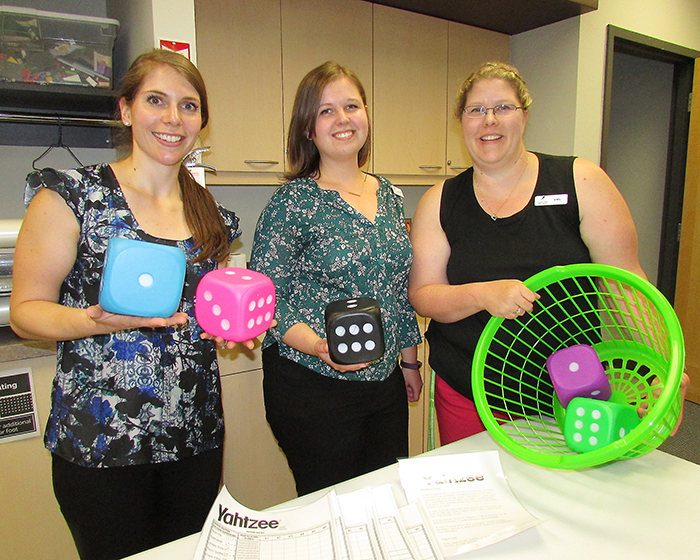 If you like to play board games, the Chatham-Kent Public Library Chatham branch has a fun night in store for you.
Life-sized board games night is taking place Aug. 15 from 6 p.m. to 8 p.m., with favourites like Yahtzee and Jenga game pieces super-sized for a fun, new twist.
Amy Hillman, library technician at the CKPL Chatham branch, said she and fellow staff member Megan Cowan have had fun creating the game pieces, making them as close to the original games as possible – only much bigger.
The games are open to teams, individuals or couples, and Hillman said the two-hour time frame gives people a chance to rotate through the four games being offered – Jenga, Kerplunk, Battleship and Yahtzee. She said the same rules and point system will apply as the original games.
"It's a two-hour time span so everyone gets to have a try at the games," Hillman said.
When asked what inspired the life-sized board game idea, she said the CKPL is always looking for new and fun ways to engage its patrons, both children and adults.
"We try to identify what our patrons are looking for and interested in. Some ideas come from patron suggestions and we're always willing to try it to see who we pull," Hillman explained.
With help from Cowan, who came from a library that had a successful life-sized board game night, Hillman said they also looked to other sources for ideas.
"We brainstorm ideas and try things other people have done. We get our inspiration from other libraries and we cruise the Pinterest boards," Hillman noted. "Board game cafes are coming up all over as well so we know it's popular."
The library started with regular board game days on Thursdays on a drop-in basis from 2 – 5 p.m. for ages 13 and above, and they also have other fun activities like Bad Art Night. Anyone can sign up to participate, have fun and possibly go home with a "You Tried" trophy as winner of the worst art.
"You can come with a group of people, have a good conversation and a good laugh," Hillman said. "When people are done, we set them up to display and everyone votes on the worst one as the 'winner'."
For Life-Sized Board Game night, people need to register in advance, with a limit of 30 people. The evening is for people 13 years of age and up. Call 519-354-2940 or for more information on what the library has to offer at all of its branches this summer, go to www.ckpl.com.
Comments
comments
« TEDx C-K shifting venues this year Connected by more than coffee »