Ontario Premier Kathleen Wynne made a brief stop in Chatham Thursday, starting with a tour at the Chatham-Kent Museum that turned into an unscheduled talk with representatives from several protest groups.
Spokespersons from Water Wells First, OPSEU and Unifor were given a chance to have a brief word with the premier, asking questions about contaminated water, selling off of provincial assets and protection for workers.
Wynne spoke with Jordan McGrail, OPSEU Region 1 mobilizer who showed up with supporters of the We Own It campaign opposing the sale of Hydro One.
McGrail asked Wynne what facts the province is using to justify selling off public assets to private companies which only puts money into provincial pockets, such as Hydro One.
"We are building assets with all of the money that came in from the broadening of the ownership of Hydro One," she said, adding the province will retain 40-per-cent ownership of the company. "We need to build infrastructure in this province and that's what we're doing. We're retaining control in terms of the ability to remove the CEO and the board, making Hydro One into a better company, but building infrastructure that is desperately needed in this province."
"When mayors sit down with me, it doesn't matter where it is in this province, their number one concern is making sure there is infrastructure money flowing from the province to the municipality."
Aaron Neaves, a national rep for Unifor, spoke up at the impromptu scrum as well, telling the premier that what's happening with Sears Canada employees as the corporation prepares to close several stores hurts employees and "we need a workers'-first legislation in this province."
He said Sears executives are receiving $9.7 million in retention bonuses while "workers are going to the back of the line" with no severances.
"I applaud you for what you've done in terms of labour legislation, but we absolutely need workers'-first legislation in Ontario," Neaves said. "Those workers at Sears have absolutely no third party to speak for them," Neaves said. "They're being left behind and it's disgusting."
Wynne agreed with Neaves.
"You're right. Those workers need that security, so let's keeping working together."
"It is painful whenever a worker loses their job in this province," Wynne said, "Ontario's economy is growing, but not everybody's sharing equally in that, I get that, and so we need to continue to work to ensure that."
Chatham-Kent Mayor Randy Hope, who got a chance to speak privately with Wynne, saw the premier's visit as "very positive" for the municipality.
"I was extremely impressed with the premier," he said. "She took time to meet with people outside the museum who were protesting a variety of issues and genuinely wanted to hear what they had to say."
Wynne's visit included a tour of the Chatham-Kent Museum and the Thames Art Gallery where she viewed "Michael Chambers, Shadows to Silver" featuring photographic works from the artist, a documentary screening about Chamber's practice by filmmaker Anton Wagner, and photographic portraits in the Mezzanine in partnership with the Buxton Museum and CK Black Historical Society.
She then had a private meeting with the mayor and later met with greenhouse owners and operators to discuss that burgeoning portion of Ontario's agriculture sector.
Hope said he had a wide-ranging discussion with Wynne, touching on ways the province and municipality can work more closely together on a variety of agricultural, economic and community issues.
"I gained insights from Premier Wynne about the province's view on a number of issues and from our perspective it was good for her to hear first-hand about what's important to our community," Hope said. "That kind of grass-roots information really connects the premier to our community. She spent more time here than originally planned and I believe she enjoyed herself."
During her visit, Wynne received gifts of work from local artists consisting of a painting "Up" by Danielle Dupuis, pottery by Janet Johnston and original hand-painted card by Darla Fisher-Odjig.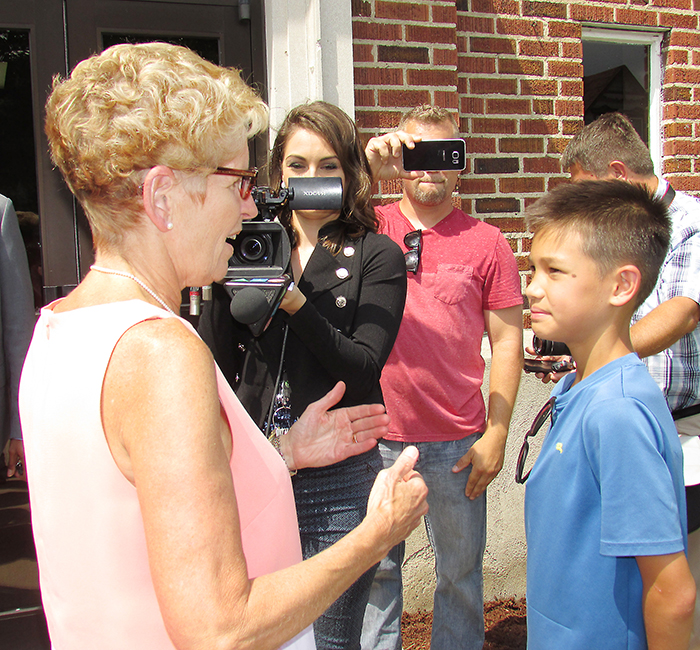 Comments
comments
« Cycle adventure rides through south C-K Wynne addresses well water issues »